Pledge claims that its products can clean leather couches and leather products, is it true, or can Pledge damage your leather? We're here to guide you on whether you can or cannot use Pledge on your leather items and furniture.
Pledge on real leather
Pledge is great for all sorts of household cleaning situations, but we highly recommend sticking with leather-specific products to clean your leather goods.
However, if your couch really needs cleaning, we recommend the Pledge Moisturizing Oil as that contains ingredients that are able to nourish your leather and even wood. If you're going to choose an all-around solution that's still good for leather, then the moisturizing oil will be convenient.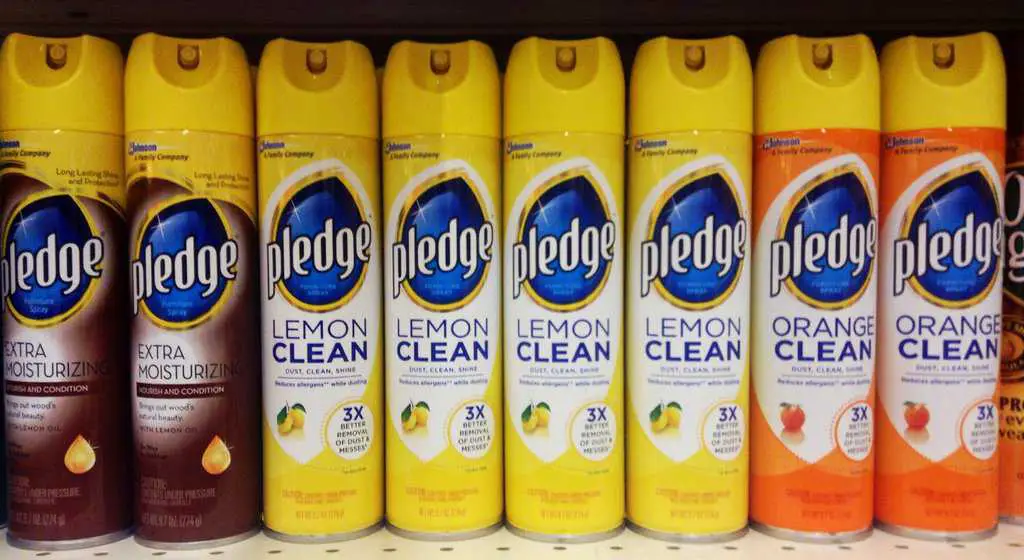 Real leather is quite durable, but if you want to keep it in the best shape, just using Pledge on it isn't going to keep it looking the best. We recommend using a conditioner and wax to keep your leather truly protected and healthy. You can then use Pledge to maintain its cleanliness before its next scheduled conditioning and waxing.
Pledge on faux leather
Faux leather is very resistant to alcohol and all sorts of cleaning products. Pledge products are great for faux leather anything, be it a couch, bag, or jacket.
If you want to keep your faux leather goods disinfected, the Pledge Dust & Allergen Multisurface Cleaner Spray is a great choice, especially for faux leather items you take outside. Being able to disinfect your faux leather goods is pretty important to keep your home safe from viruses and allergens.
For faux leather couches, you might want to try using the Pledge Furniture Polish Spray instead as it can provide a nice shine if you prefer that look on your leather goods. However, avoid it if you don't like shiny leather and stick to the other spray instead.
Faux leather can also benefit from the polish spray as it contains a silicone film former that is able to protect your faux leather goods from UV rays. It won't fully protect the item from UV rays, but it will still help delay the eventual peeling that faux leather is bound to experience.
Pledge on suede/nubuck
It is never a good idea to clean your suede shoes or other nubuck items with liquid cleaning solutions or wipes. Pledge is known for its cleaning solutions that come in liquid form, wipes, or in a spray bottle, and either way, these are still damaging to the soft and velvet texture of suede and nubuck.
If you want to clean and take care of your suede items properly, you can check out our article about the best suede and nubuck cleaners & kits. We highly recommend using suede-friendly products and suede brushes to restore the fluff back on the items instead of using methods that might be harmful to the material.
How to use Pledge sprays on Leather
This section will tackle how you can safely use Pledge on your leather products. This is important as we want you to be able to clean and disinfect your leather item without damaging it. Pledge is a great product, but if you're not careful with it, you might ruin the look of your leather items.
Using Pledge on real leather
To use Pledge sprays on real leather, you have to make sure that you're using a Pledge spray that Pledge itself labels as able to clean leather. Some of the Pledge products are quite strong and would dry out or discolor your leather if you're not careful.
We suggest not spraying it directly onto the leather item, but spraying it into a paper towel and wiping that onto your leather item. If you do want to spray it directly onto your leather item, we suggest spraying it from at least a foot away from the item. This will prevent you from spraying too much cleaner in one spot which could end up in discoloration.
Always test in a discreet area first before doing the whole thing.
Using Pledge on faux leather
Using Pledge sprays on faux leather is less risky than on real leather. However, you should still be aware that the cleaner might interact with some colorants on faux leather, hence you should still test in a discreet area and make sure there are no such discoloration effects.
If you see that there is no discoloration on your leather item, you can proceed to clean it freely.
Conclusion
Pledge is a great furniture polish and leather cleaning solution which can effectively remove dust, grime, and stubborn dirt. However, since it's a furniture polish, it's still recommended that you take extra measures to protect your precious leather items. Investing in a waterproofing spray is a great start and can even save you a few bucks.
FAQ
Can you use Pledge on leather car seats?
You can use Pledge on your faux leather car seats even though the product contains silicone since faux leather doesn't really need much breathability. If you don't have any other cleaner on hand, you may use Pledge for a short-term solution. However, using this furniture polish for your real leather car seats or genuine leather sofa may not be good for them in the long run.
What should you not use Pledge on?
Pledge is marketed as a furniture polish so it's pretty much safe to use on almost all types of hard surfaces. However, you should use Pledge with caution on unsealed wood, marble, or granite surfaces as it may build waxy layers of silicone which is one of the main ingredients of this product.
Can you use furniture polish on leather?
It is not recommended to use furniture polish on leather because these products may contain abrasive cleaners, silicone, varnish, or ammonia water that can damage the leather material. If you have a leather couch that you want to restore, go for leather-specific cleaners and conditioners to ensure that the material is preserved in good condition.
Will Pledge remove water stains?
If you find water stains on your furniture, you can use Pledge to remove those. For faux leather with water stains, you can spray some Pledge onto a soft cloth and use it to gently remove the stain. If your leather goods are already treated with a waterproofing spray, then there's no need for you to do this method.
Is Pledge multi-surface safe on leather?
The Pledge multi-surface cleaning spray and wipes can be used on multiple types of surfaces such as granite, wood, plastic, and even leather. It can remove dust particles that have settled in the cracks or pores of the leather material and can even remove stubborn stains. Just make sure that you condition the leather afterward to restore its moisture and prevent it from drying out.
What cleaner is safe to use on leather?
The only answer to this would be leather cleaners. These products are specifically made to clean leather materials effectively without causing damage to the fibers or the texture. There are tons of leather cleaners and conditioners that you can purchase online so you won't have to worry whether you're nourishing or damaging your prized leather goods.