Nubuck is a type of leather that comes from the inner layer of animal hide and it can be sensitive to being wet. It's hard to avoid accidental spills sometimes and it's important to know how you can protect your nubuck items from being damaged.
Can nubuck get wet?
Technically, nubuck can get wet if it isn't sprayed with a waterproofing spray and that's why it's never a good idea to keep it exposed to water for periods of time. However, since nubuck is a type of full-grain leather that has been sanded down, it can still be water-resistant to small liquid splashes.
Is nubuck real leather?
Yes, nubuck is made from real leather. It is a type of luxury leather that has a soft yet durable texture, similar to suede. You can commonly see nubuck on high-quality shoes and luxurious furniture. Nubuck shoes can be characterized as having a smooth and velvety texture with fine bristles because it is made from buffed top-grain leather.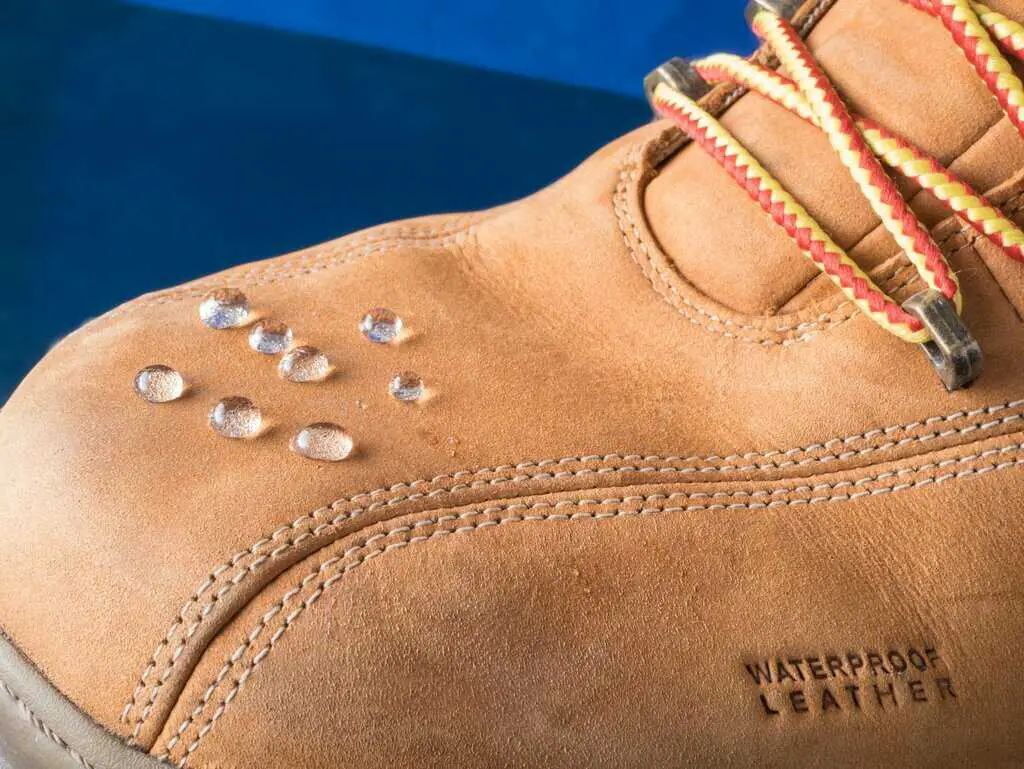 If you're wondering what makes nubuck different from suede, here are some of their notable differences:
Suede items can get permanently discolored when it gets wet, while nubuck returns to its original color when it's dry.
You should only use a suede brush for suede, but you can use a nylon brush, toothbrush, or a suede brush for nubuck.
Nubuck is more durable and more water-resistant compared to suede.
While nubuck is considered more durable, suede is more supple.
Is nubuck leather waterproof?
When talking about the waterproofing properties of leather items such as nubuck, you first need to understand that waterproofing is different from water-resistant. Waterproof means that it's completely impermeable to water and cannot get wet because of some protective coating on the surface.
On the other hand, water resistance simply means that it can resist water penetration for a period of time, but not entirely and not for long. So no, nubuck alone is not waterproof unless there is a waterproof coating on the surface.
Is nubuck leather water-resistant?
As we mentioned above, nubuck is only water-resistant and not waterproof. This means that a few splashes shouldn't be a cause for concern if you can wipe them off immediately. However, big spills should always be avoided around suede and nubuck as those can penetrate into the fibers and cause permanent damage to the material.
How to waterproof nubuck leather
In order to preserve the nubuck's longevity, we highly encourage you to make it waterproof and apply some protective coating as soon as you buy items. Here's how you can make your nubuck jacket, nubuck boots, or nubuck bag waterproof along with other types of leather:
Use waterproofing spray
There is really no way around it. The only way for you to waterproof leather items such as nubuck is to treat it with a waterproof protective coating on top such as Bickmore Gard-More Water & Stain Repellent. There are also waterproofing wax such as Dubbin that you can apply to the surface using a soft cloth. It's up to your preferred way of application.
Things you will need:
Waterproofing spray or waterproofing wax
Soft towel
Suede brush or nylon brush
Suede eraser
Steps:
Clean the surface of the nubuck leather thoroughly and check for any scratches or stains. Remove the imperfections using a suede eraser.
Position the protective spray about 3-5 inches away from the item and apply. You can use a soft clean cloth to apply the coating if it's in wax form.
If you're using a waterproofing wax, we recommend warming it up before using it for a consistent application. Let the wax dry for about an hour.
Let the nubuck leather dry naturally and completely (at least 12 hours). Avoid exposing it to artificial heat or direct sunlight as this can cause leather cracking.
Sand it down using a suede brush or a nylon brush to bring back its soft texture and fluff up the fibers.
Tips and extra information:
Waterproofing your precious nubuck item is not a one-time thing. This means you have to reapply the protective layer depending on how often you use it.
We recommend applying the waterproofing spray before the rainy and wet seasons of the year for optimum protection.
How to maintain nubuck leather
Waterproofing your nubuck goods is only one part of the solution to making your items last long. You also need to maintain them as often as you use them to avoid early signs of aging on the item and to keep it looking pristine. Here's how you can do it:
Always invest in a good waterproofing spray for protection against water and other liquid stains. You can check out our review about the best suede and nubuck protectors you can find online.
Avoid using a waterproofing spray that comes from animal byproducts as these are the type to clog the pores of the nubuck leather.
Make sure that your nubuck cleaner is safe for colorfast materials to avoid discoloration.
Buff up your nubuck items using a suede brush and a dry cloth to maintain their velvety signature texture.
Conclusion
Owning a high-quality leather item such as nubuck leather shoes or a nubuck bag requires you to understand how to take care of them properly so they'll last longer and you'll get your money's worth. We hope that this article helped in teaching you how you can waterproof them at home.
FAQ
Is nubuck leather durable?
Yes, nubuck leather is a durable material that can last you for years with proper care and storage. In fact, since it is made from the inner layer of animal skin, it's considered tougher and more durable compared to its similar counterpart, which is suede leather. However, just like suede boots, it's vulnerable to stains due to their velvety texture.
Can you wash nubuck leather?
We don't recommend washing your nubuck leather items as it can cause more harm than good, especially when water stain is the main cause of the nubuck fibers becoming brittle. If you want to clean your nubuck leather boots, go with a suede brush instead to remove dirt, grime, and stubborn stains.
Are leather timberlands waterproof?
Yes, leather timberlands are waterproof and since they are considered to be work boots for men and women, you can rest easy knowing it's made from only the highest-grade materials. Not only are those precious Timbs waterproof, but they are also weatherproof and great for heavy-duty use.
Can you wear nubuck leather in rain?
You should keep your nubuck jacket or any other nubuck garment as dry as possible. We don't recommend using them in rain. If you can't avoid getting them wet sometimes, be sure to invest in a waterproofing spray to protect the material from stains and becoming brittle due to untreated water spots.
How long does nubuck take to dry?
Wet or soaked nubuck can take around 24-48 hours for it to completely dry. The drying process can also depend on the weather and the humidity of the room you are storing your items. You can make your nubuck leather dry up faster by making sure that it's in a well-ventilated area. You can also use a cool fan if you're in a hurry.
Does nubuck scratch easily?
Unfortunately, your precious nubuck items can indeed get scratched easily, especially if you haven't applied a protective coating yet. It can be more prone not only to scratches and tears but also to water stains, oil stains, and grime. The good news is that you can easily use a suede eraser block to remove most of these common nubuck problems.