We've all heard of water damage when it comes to leather goods, but that doesn't mean you can't enjoy your beloved jacket in adverse weather conditions.
Besides, a leather jacket is one of the coolest ways to stay warm in cold weather. Whether it's heavy rain or snow, there are always ways to safely wear your leather jacket in all types of weather.
Can Leather Jackets Get Wet?
Yes, they can, however, water is generally bad on leather, especially suede. This is why there are so many leather care products made to protect natural leathers from all sorts of things, especially water as that is the most common element that leather can be easily exposed to.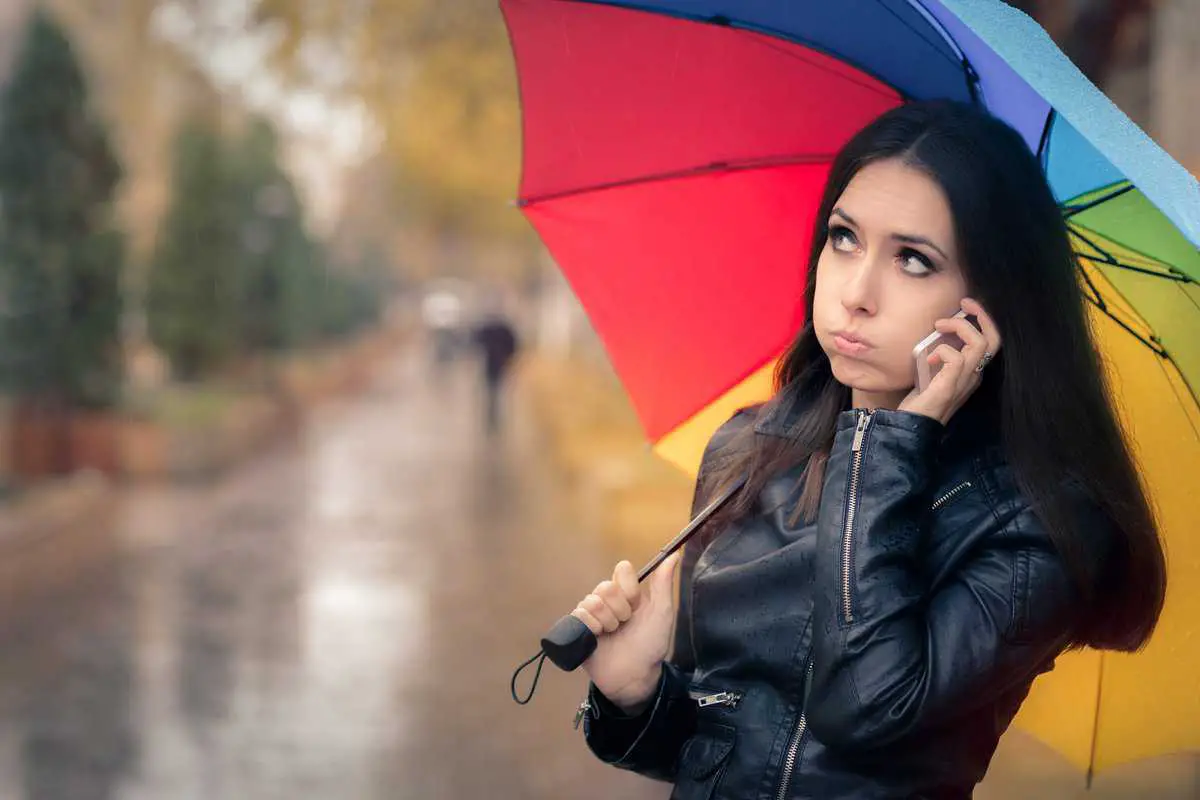 The Effects of Water on Leather
As we said water is generally bad on leather, which is why there are so many leather care products made to protect natural leathers from all sorts of things, especially water as that is the most common element that leather can be easily exposed to.
When water is left on leather for extended periods of time, it can be absorbed into the leather and wick away the natural oils that serve as a layer of protection and they are also what keeps the leather soft and supple.
When the water absorbs into the leather and is left to dry out over time, it can dehydrate the leather and make it stiff as the fibers tighten up and become less flexible, stiff fibers lead to stubborn wrinkles and creases. Dehydrated fibers are brittle, which increases the risk of cracking, and broken fibers cannot be rejoined.
Additionally, if you leave your wet jacket in a humid room where it does not have a chance to dry up, it may mold and potentially rot. Leather is a natural product, which means it is vulnerable to fungus and bacteria.
Is leather water resistant?
Before we explain this further, we need to understand the difference between waterproof and water resistance.
Water resistance
Water resistance is when a material is not immediately vulnerable to water and can hold off absorbing water to a certain amount, but given enough time and water, it will eventually be absorbed into the material.
Waterproof
Waterproof means the material can never be penetrated by water. It cannot absorb nor be vulnerable to water no matter how wet it is or how long it is wet.
All natural leathers are water resistant. Different types of leather are more resistant than others. The upper layers of leather are the strongest, like top-grain or full-grain leather. These leathers have very tight and strong fibers, making them less vulnerable to water. However, lower-quality leathers like genuine leather and suede have very porous fibers, making them way less water resistant.
Can You Wear a Leather Jacket in the Rain?
Of course, given that you have protected your jacket and that you are doing the after-care practices that we will mention below after exposing it to heavy moisture. Rain can be especially harsh to leather as there are other contaminants in it, so be sure to prepare your jacket for anything with this guide.
Will Rain Ruin a Suede Leather Jacket?
Suede, whether they're shoes, bags, or jackets should preferably never be exposed to water or rain. Water can leave stains and dark spots on suede leather very easily and these can be very stubborn to remove and will require friction and more water to fix. Exposing your suede to friction through cleaning frequently will wear out your suede quickly.
If there are signs of rain, we do not suggest you wear your suede jacket outside. However, we cannot always avoid rain, so we have included a guide on how to protect your suede from rain and water in case it is unavoidable.
Are Faux Leather Jackets Waterproof?
Faux leather is usually made from plastics like polyester and vinyl and is not as breathable as natural leather. Since they are made of plastic, which is not a water-absorbent material, they are waterproof. They are also resistant to scratches and stains, however, they may not be as soft or as comfortable as natural leather.
Do you need to condition faux leather?
There is nothing stopping you from applying leather conditioning products on faux leather. Conditioning products such as from TriNova serve as protection against UV damage like fading and brittleness. However, faux leather cannot absorb the conditioner, but you can just use the faux leather as is as they are more durable than real leather and are not made with needing conditioning in mind.
How do you protect your leather jacket from water damage?
If you live in an especially rainy and wet place, regular maintenance products like conditioners may not be enough. For cases like these, you would need a few products and extra precautions to keep in mind before and after exposing it to a lot of moisture.
Leather waxes
Waxes are the oldest and most trusted ways to waterproof leather. This method has been around for thousands of years as the wax is easily accessible and humans have used leather for almost everything since its first discovery.
Types of waxes
These waxes are the most commonly used in the modern world and are easily accessible in almost every leathercraft/leatherwear shop. You may also easily find them online.
Beeswax is especially accessible as it is also commonly used in candlemaking. Beeswax is also the cheapest out of all the options as it is the most common type of wax, but that does not make it less effective. It also has a neutral scent, which makes it suitable for jackets.
Sale
Carnauba wax is similar to beeswax, but it is more effective at protecting against scratches and UV rays as it is a harder type of wax. Beeswax and carnauba wax may also be mixed together to get the best of both waxes.
Sale
Lanolin is a waxy substance that comes from sheep whose function is to provide a waterproof coating for their wool and keep water from penetrating deep into their wool and letting microbes thrive. It can provide the same water protection for leather with the added benefit of moisturizing the leather, acting as another form of conditioning.
Sale
Otter Wax Boot Wax | 2oz | All-Natural Leather Waterproofer | Made in USA
UNBEATABLE LEATHER PROTECTION: Easily protect and preserve all your leather from rain, mud, snow,...
NATURALLY THE BEST: Otter Wax Boot Wax is made with the finest protective ingredients, is 100%...
UNIVERSAL & COLOR-SAFE: Use this all-purpose treatment to protect all grades, and colors of leather...
Water repellent sprays
Water Repellent sprays are a modern innovation when it comes to waterproofing leather and other materials. These protective sprays provide a longer-lasting and even more waterproof surface without the messy clean-up of waxes. They also have the added benefit of protecting against stains.
These sprays work by creating a hard synthetic chemical barrier between the leather and the outside elements. These products are either made from acrylic or silicone which are waterproof materials. Though they are waterproof, due to the nature of flexible materials, they do come off through wear and movement, so they are not a permanent waterproofing solution and should be reapplied accordingly.
Types of water repellent sprays
Acrylic Copolymer Sprays
Silicone Sprays
These sprays are the most commonly used synthetic products made to protect leather and fabrics.
Silicone sprays are more commonly used on suede as it is stronger, but it is not as good on higher quality leathers as silicone can dry them out.
Silicone sprays are better used on suede due to the rougher surface texture of suede and the looser fibers. Using them on tighter fiber leathers like full-grain and top-grain may ruin the surface finish and become sticky over time.
For smoother leathers, acrylic copolymer sprays are a better solution. These sprays provide a water-repellent surface while keeping the breathability of the leather. Acrylic sprays are also better at preserving the texture and color of the leather. These may also be used on suede, but they may require a third coat. Further details are discussed in the how-to section below.
Bickmore Gard-More Water & Stain Repellent 5.5oz- Leather Protector and Suede Protector Waterproofing Spray Guard for Boots, Shoes, Clothing, Hats, Jackets & More
SUPERIOR WATERPROOF TREATMENT- Bickmore's Gard-More Water & Stain Repellent has been specially...
WORKS ON LEATHER, SUEDE, FABRIC, FELT, NUBUCK AND MORE- Protecting against dirt, water & stains on...
BREATHABLE: Gard-More provides a strong invisible layer of protection, while still allowing the...
Maintenance practices after rain exposure
Besides the products, there are also things you need to do to prevent your leather jacket from getting damaged by water exposure. These practices are much more important than the products because even if you didn't put on the products before exposure to the rain, you can still prevent damage with these steps.
Drying
Immediately after getting home or reaching your destination, grab a towel and pat your jacket dry as much as you can. Avoid rubbing the towel on the wet leather as you may risk deforming or stretching it. You may also use a fan, but avoid using a blow dryer as the heat and moisture may strip the leather of its oils.
Proper storage
When you are done using your jacket and you have dried it. It may not be completely dry in all areas especially if the jacket was really wet. To avoid mold from forming, place it in a dry, well-ventilated area. If you have to store it in a closet, consider buying a dehumidifier to prevent the moisture from staying for too long.
Avoid placing your jacket in direct sunlight to dry it out. Prolonged exposure to sunlight can dry it out too much, even if your jacket is well-conditioned. Just like how SPF lotion cannot fully protect your skin from sun damage, leather conditioners can only do so much against the extreme damage that UV rays can do.
How to use leather waxes
If you wish to go the more traditional route by using natural ingredients on your leather, here are the steps on how you can use the above-mentioned leather waxes on your jacket. All waxes can be applied using the same steps mentioned below.
Things you will need
Steps
Prepare your jacket by making sure that it is clean from dust and excess surface moisture. Accidentally rubbing a piece of dirt against the leather may cause scratches.
If you want to mix your waxes, you may melt them in a pot over soft heat. While you're doing this, you can also pour it into a mold, like into a bar shape to make it easier to hold while applying.
Lay the jacket flat against a clean surface.
Softly rub the solid wax against the leather. Don't worry about it not being smooth or if the wax layer is too obvious. Make sure that you get all the surfaces.
Smooth and even out the wax. Here are 3 ways you can do this.

A piece of cloth or canvas: Rub the cloth on the leather jacket, massaging the wax evenly over the leather. The friction will melt the wax and spread it over the leather. The rubbing motion will also polish the wax, giving it a shiny look. You may also add a drop of cold water during this rubbing process as it helps polish the leather.
A heat gun: Position the heat gun around 8-12 inches (20-30 cm) away from the jacket and move it around in small circles until the wax becomes shiny. Don't focus on one spot for too long and always be moving. You may also use a cloth to polish it further afterward and remove any excess wax.
A soft leather brush (animal hair brush): Leather brushes, like horse hair brushes, are commonly used to shine leather shoes. Quality brushes can be expensive, but they provide a very intimate experience with your leather goods. Though they're usually used for shoes, you can also use them on your leather jacket to polish the wax and shine it as well.
Brush the leather softly, going in a back-and-forth motion until you achieve an even and shiny surface. This takes a bit more time, but it can provide a very high-quality finish.
How to use water repellent sprays
Water-repellent sprays are by far much easier to use than waxes. They are also less messy and are much quicker. Here are the steps on how you can use these sprays on your leather jacket to protect it from the elements.
Things you will need
Newspaper, sacrificial shower curtain, or garbage bag.
Steps
Clean your jacket, making sure that there is no dust, oil, grime, or excess water on the surface. This will prevent the product from properly coating your jacket.
If the leather jacket has not been conditioned in a while, apply some leather conditioner as you will not get the chance to do so anymore for some time when the product is sprayed on.
Hang your jacket, or lay it down on a surface protected with newspaper, or plastic to not get the product on any unwanted surfaces.
Read the spray bottle for any additional instructions on your product.
Spray the bottle 6-8 inches (15-20 cm) away from the jacket, making sure to spray evenly. Do not focus the product on one spot as this will create a hard layer that is too thick and unsightly.
Leave the jacket to dry in a cool, dry room for a few minutes, or as indicated on the canister.
Apply a second layer if needed. When spraying suede, you may need a third layer.
Conclusion
When rain is unavoidable, or if you just want to wear your leather jacket in wet weather because you live in a country that's always rainy, there are always ways we can allow ourselves to enjoy our beloved leather goods without fearing their safety or integrity. Though suede may never be suitable for wet weather, you'll at least have protected it from the worst.
Always be sure to keep in mind the practices mentioned above in case your leather gets wet, and if you do intend on getting it wet, then the practices should become routine. We hope this guide has given you confidence in wearing your leather jacket outside even if it's raining.
FAQ
Can you wear a leather motorcycle jacket in the rain?
Leather motorcycle jackets are made with the most extreme conditions in mind. They usually come with protective gear as well in case of accidents, so getting it wet would be the least of your concerns. You may apply the protective methods mentioned above, however, if you are concerned about potential water damage.
Is it OK to wear a leather jacket in the snow?
Snow is less concerning than rain. You can easily brush it off with your hand and they take time to melt and wet the leather. Leather jackets are one of the most stylish ways to stay warm in cold weather, and you don't need to be afraid to wear them in the snow.