Leather jackets may seem like warm pieces of clothing that would make it difficult to wear in hot weather. That could be further from the truth. Many people are able to wear leather jackets in the summer, and in this article, we want to show you how you can wear them as well.
Can you wear a leather jacket in the summer?
Yes, of course. While leather jackets are able to provide warmth in cold weather, real leather is a breathable product, making it great at protecting you from the sun while still being able to let enough cool air through to make it comfortable.
Are leather jackets good for summer?
Absolutely. Although, that would depend on the type of leather jacket you have. Leather jackets that are designed for cold weather with features that protect the wearer from the cold will definitely feel warm. However, jackets with lighter lining and no insulation are great for the summer.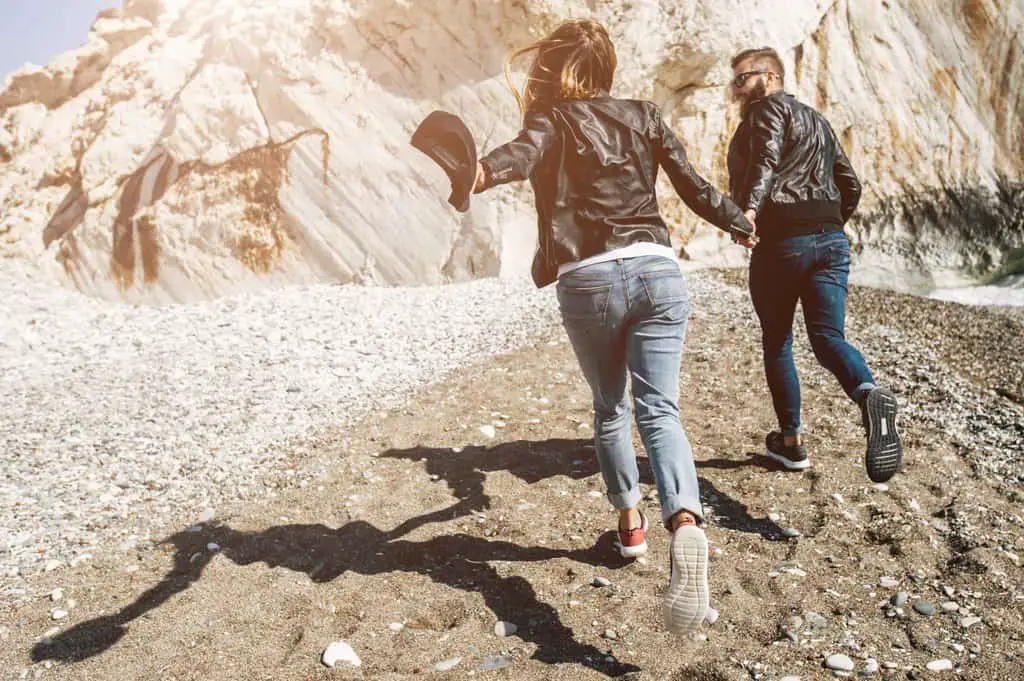 Types of jackets to avoid in the summer
Not all leather jackets are great for the summer. In order for you to pick out the right ones for you, we have created a simple list of the features that you should avoid if you plan to wear a leather jacket in the hot summer.
Heavily quilted jackets
Quilting and other insulation features will do the opposite of keeping you cool in the summer. Quilting is made to trap the wearer's body heat and absorb incoming heat. A quilted leather jacket sounds great for the cold months, but you're going to end up being a sweaty mess if you wear it in warm climates.
Anything with fur
Fur lining, fur collars, shearling, and anything fuzzy on your leather jacket should be avoided. Fur and fuzzy material have insulating properties, and just like quilting, you don't want your body heat trapped in that fur.
Fur might be even worse than quilting in the summer as the fur might feel very itchy and uncomfortable if you get sweaty. This might even result in rashes for some people with sensitive skin.
Long leather jackets
Leather coats or jackets that go below your crotch level are definitely too long. You want to stick with jackets that are at or above your crotch level. Especially for motorcycle riders, as long jackets will be uncomfortable to sit in.
Faux leather
Faux leather isn't really a no-no for summer, but cheaper types of faux leather jackets will not be breathable. Even if the material is thin, if it is not breathable, it will trap your body heat inside the jacket.
You can remedy this by leaving your zipper open, which we suggest for any jacket in the summer anyway. However, if you're vegan and want to buy a faux leather jacket for the summer, then you might have to shell out a bit more money to get yourself a high quality breathable faux leather jacket.
Polyester lining
Just like faux leather, synthetic fabric like polyester isn't very breathable. The lining made out of polyester isn't a question of quality, but it's not an appropriate material for the summer. You may find some types of polyester lining to be breathable, and workout clothes are commonly made from polyester, but that specific feature may be expensive.
To be safe, it is best to stick to jackets with thinner linings made from cotton as it will be reliably breathable and comfortable during the summer.
Summer jacket suggestions
It might seem counterintuitive to wear a leather jacket during the summer months, but it's not impossible. Leather jackets come in various designs and materials that are created with the ever-changing seasons and temperatures in mind. Here are some summer leather jacket suggestions that you can check out:
Moto leather jacket
Leather biker jackets are known for their asymmetrical design with a bunch of easy-access zippers made with the riders' comfortability in mind. The most common material used for this leather jacket is genuine goat leather because it's a relatively light leather, making it perfect for the summer season.

Double Rider – Check Price Now!
A popular type of motorcycle leather jacket is the cafe racer leather jacket. These jackets are made to be light and agile. They feature a high waist to make them more comfortable in a seated position. They also provide great wind protection and are more aerodynamic than normal leather jackets.

Cafe Racer – Check Price Now!
Leather bomber jacket
There are winter bomber jackets with quilting and fur collars, but there are many summer bomber jackets that are light and thin. This is a great choice and will always be in style. High-quality bomber jackets will have cotton lining.

Modern Bomber – Check Price Now!
Leather vest
The leather vest is a popular choice in the summer for very obvious reasons. Your arms will be very free and your body will have a lot of airflow going through it. One downside to the leather vest though, is that your arms will be exposed to the sun directly. This might leave you with tan lines or possibly rashes if you have sensitive skin.
Styling tips and how to wear them
There are a lot of ways you can style your leather garments even when it's hot and humid outside. If you want to wear a leather jacket during summer, you don't have to sacrifice comfort for style. Instead, just go for lightweight leather jackets that will protect you from the sun, but are also thin enough that you don't get soaked in sweat after an hour outside. Here are some styling tips to help you out:
For rides
A leather jacket is a timeless piece of clothing used by many motorcycle riders to protect them from the harsh heat on the road. Moto leather jackets can be your go-to because of their accessible zippers on the front and sleeves, making these jackets durable but also still stylish in the summer.
Minimalistic
It's unreasonable to wear many layers in the summer. To wear a leather jacket in the summer, you have to keep it simple and minimalistic. A pair of blue jeans, a white shirt, and color-matched chukka boots would make a great outfit combination.
You can also top your simple shirt and pants with a bomber jacket to add a bit of edge to your outfit. It also makes you look more polished with a wide array of leather jacket choices made from sheepskin, lambskin, cowhide, and other natural materials.
Note that a black jacket will absorb heat more easily compared to a lighter color like brown or white.
Styling a leather vest
There are many ways to wear a leather vest. You can go shirtless and just wear that, but if that makes you uncomfortable, you can opt to wear a sleeveless shirt underneath.
If you are sensitive to the sun or don't want tan lines on your arms, you can also wear a long-sleeved, casual shirt underneath. Preferably one that's made of a breathable fabric. You can also opt to roll up those shirt sleeves to elbow level for a bit of an edgy aesthetic.
Roll up your sleeves
Rolling up the sleeves of your leather jacket is one easy way to make it cooler, both in terms of temperature and aesthetics. This simple change is able to transform any outfit, and leather jackets are no exception to this rule.
Caring for a leather jacket in summer
As your leather jacket may be more exposed to the sun, it may mean that the leather will dry up more easily and could lead to cracking. To avoid this, here are a few things you should take note of in order to keep your leather jacket healthy in the summer.
Conditioning
It is best to condition your leather jacket every 6-12 months, but if you're wearing it very often with a lot of direct sun exposure, you may have to do this more often. You don't have to do it every day, and when you have to do it will depend on the state of the leather of your jacket.
It is best to regularly check on the texture and moisture of your leather jacket frequently to know if it needs a little conditioning. Avoid doing it too often as well as the leather may excrete the excess conditioner while you're using it. You do not risk ruining the leather with too much conditioner, but it may be uncomfortable to touch.
Proper storage
Once you get home and your leather jacket is hot, do not store it in a humid area . The hot jacket will easily absorb the moisture in the air because of the difference in temperature. You can leave it in front of a fan or next to a window with a lot of ventilation
Improper storage can lead to mold, especially when it's warm and moist as that is the perfect environment for fungus to grow.
Conclusion
A leather jacket is a very versatile piece of clothing that can be worn in cold and hot weather. Don't let the warmth stop you from wearing your beloved jacket, just make sure it's the right type of jacket for the climate though.
We hope that this article has helped you find the right jacket for you and some style inspirations for you to try out as well.
FAQ
When should you not wear a leather jacket?
If we are talking about climates, you can wear a leather jacket in any climate. Wet, dry, hot, or cold, there is always an appropriate leather jacket for any type of weather. However, when it comes to occasions, you definitely shouldn't wear a leather jacket when it comes to very formal events that have a dress code and do not call for leather jackets.
Do leather clothes cause sweating?
Sweating will depend on the wearer. While leather isn't as breathable as a simple cotton t-shirt, people who don't sweat that much may not face a sweating problem when wearing a leather jacket. However, if you are prone to sweating, then leather jackets may accentuate that problem as they don't provide much airflow even if they are breathable. You may wear a vest as vests have great airflow.