Regular pants don't get washed very often, and when it comes to leather pants, it's even more true. There isn't a very great need to regularly wash leather goods. In fact, it's not encouraged to wash leather goods very often at all because that will shorten their lifespan. But, there will be a time when it is especially unsightly or smelly and you will need to clean it.
Should you wash your leather pants?
Ideally, never. Washing your leather pants for the sake of washing them is not good and washing often can lead to shrinkage, distorted leather, dryness, and possibly even weakening of the leather. You should only wash it if it really requires it, like in the case of stains and smells.
Can you put leather pants in the dryer?
Never put your leather pants in the dryer. The dryer is a very rough machine and it will distort your leather pants and possibly put very difficult to remove creases. The heat and intense movement will dry your leather pants out and make them very stiff. This can potentially damage your leather pants terribly.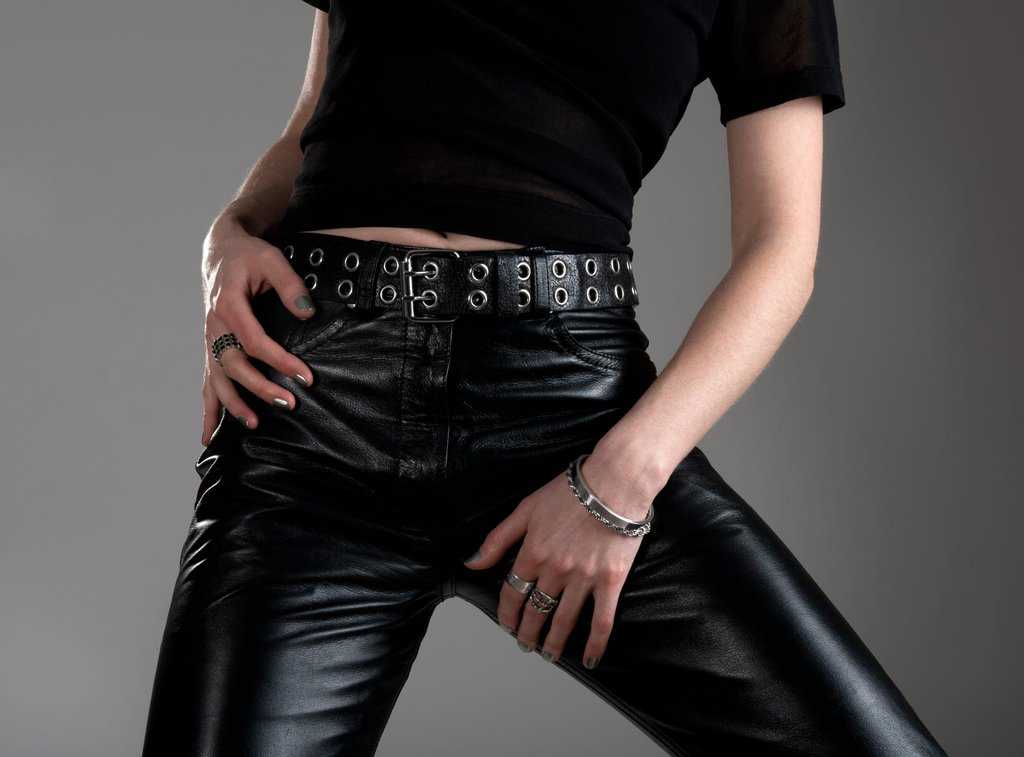 If you insist on using the dryer, make sure to use a laundry bag and apply conditioner afterward to soften them back up. However, only do this if absolutely necessary. If you can wait, you should definitely wait as you wouldn't want to risk damaging your precious leather pants.
Can you put leather pants in the washer?
In most cases, definitely not. However, you should check the cleaning label. If it indicates that you are able to use it in the washing machine, then you may. Most leather pants that you are able to put in the washer are faux leather items. However, if you decide to put it in the washer whether there are indications or not, you should always make the necessary precautions.
Precautions when using the washing machine
Laundry bag
Laundry bags are the bare minimum when it comes to putting any delicate piece of clothing in the washing machine. It is especially important for leather as not doing so may even scratch and damage the leather. The cycles may stretch, crumple, and distort the leather in all sorts of ways.
Use the most gentle setting
Speaking of cycles, using a very rough spin cycle will damage your leather pants. As much as possible, put it on gentle cycle. If you can, turn the spin setting off completely. The spinning will be the most likely culprit if your leather pants get damaged, so make sure to set it as low as you can.
Room temperature
Any extreme temperature is not good for your leather pants. Cold temperatures are not as big of a problem compared to heat. Do not turn on any heating settings on your washing machine as this will make the leather very easy to distort. Your leather pants may easily become misshapen, not just creased and wrinkled.
Professional leather cleaning services
You can never go wrong with professional services. These services, especially dry cleaning services that have extensive knowledge of leather goods are able to take care of your leather pants very well.
If your pants are getting their first wash in months, you might as well pay professionals. Chances are, you won't have to go back for a while. Beware though, coming back to professional cleaning services often will still ruin your leather pants. Even if they can clean your pants well, cleaning them too often will still shorten their lifespan.
How to wash your leather pants
Standard cleaning
Standard cleaning simply means that you follow the instructions on the care label or tag of your leather pants. You can find the label usually in the middle of the back in the waistline. Read the care instructions carefully and see if it states "Machine Washable" or "Dry Clean Only". If your leather pants do not come with a label, then you can choose one of the methods below.
Hand washing
Hand washing is a pretty safe method as long as you are careful. This doesn't have to be a very long and tedious process, especially when you're not dealing with a lot of dirt. This method is applicable to both faux leather and real leather.
Things you will need:
Large tub
Water
Large towel
Steps:
Dust off any loose dirt and debris from your pants before wetting.
Turn your pants inside out to avoid damaging the outer surface while cleaning.
Before adding in any gentle soap, try out just using water. It may be able to clean well enough without needing to use soap.
If you need to use soap, add a small amount just until it starts getting a little bubbly.
Put your pants in the soap mixture and scrub off any stubborn dirt with the soft brush. Use a gentle circular motion. If there are stubborn stains, check the section below for a more in-depth guide.
Set your pants on a flat surface with a towel underneath.
You may gently sandwich it in between towels to get most of the excess water out.
Continue to the drying section below to know how to properly dry your leather pants.
Machine washing
We can't deny that machine washing is more convenient than handwashing. Unfortunately, this process can be especially damaging to any leather item compared to doing it by hand. If you plan on washing your leather pants using a washing machine, make sure that you check all the boxes on how to minimize the impact it leaves on your precious item.
Things you will need:
Steps:
Only use cool water for this method to minimize the damage to your leather item.
Pour in the mild detergent and turn your leather pants inside out before putting them in the washing machine.
Pick the gentlest, and we mean the most delicate cycle on your washing machine. The spin speed should also be kept at the minimum RPM.
Shorten the overall wash time as you are dealing with a more delicate material than most clothes.
To make sure that you're doing everything right, check out our article on how to safely wash leather jacket in washing machine.
Tips and extra information:
When using machine wash for your leather pants, do not put in any other items along with it.
Removing stains
If you see any type of stain on your leather pants, make sure to take care of this as soon as you can to prevent it from seeping into the leather fibers. There are stains that are easy to remove while others require a more deliberate washing process. Here are some stains you may encounter and how to get rid of them.
Ink stains
Ink stain is a common stain that many people face, especially if you're someone who works in an office. Your best friend when it comes to removing ink stains is a vinegar and olive oil mixture or a dedicated ink stain remover. Check other methods on how to get ink out of leather, especially purses here.
If you want to DIY, all you need to do is mix olive oil and vinegar into a bowl with a ratio of 2:1 respectively. Use a microfiber cloth and dab it on the ink stain. You'll see it slowly fade away after a few minutes of gently rubbing on it.
Oil-based stains
You come into contact with a lot of common household items daily that can cause oil stains on your leather garment. There are many oil-based stains that might ruin your leather pants such as butter, cooking oil, moisturizers, grease, and many more.
To remove oil-based stains on your leather pants, we suggest applying cornstarch to the affected area and letting it sit for a few hours. After that, gently brush the cornstarch off using a soft-bristled brush. This is a very effective and safe way of absorbing damaging oils. You can do this method repeatedly until there are no more visible oil stains on your leather pants.
Gasoline stains
When it comes to gasoline stains, you have more problems than just the visible stain as they can also leave a strong odor on the leather pants. Gasoline is especially damaging to porous materials such as leather, so if you happen to spill some on your leather pants, you should definitely get rid of that now.
It might be tempting to rub on it using a soft cloth, but we strongly advise against doing so. You need baking soda to absorb the gasoline and leave it on there overnight. You'll notice that the baking soda powder will look yellowish in the morning as it has already soaked up the gasoline.
Removing smells
Most stains on your leather pants will most likely leave unwanted smells too. Oils, smoke, gasoline, and grease can have an unpleasant smell to them that can stick to your leather garment. If you've successfully washed and removed the stains but there is still a lingering smell on your leather pants, then you will need to work on that separately.
The unwanted smells on your leather pants can easily be removed using a lot of methods and resources that you can find in your home. In our other article on how to get the smell out of leather, you can choose the right method that will work best for you in removing unpleasant smells from your leather pants.
How to dry your leather pants
Drying your leather pants properly is also an important aspect of cleaning you should pay attention to. Here are things you should and shouldn't do when it comes to drying your leather pants.
Don't wring it out
Wringing your leather pants while they're wet will be a sure way to distort, stretch, and crease your leather pants. When leather is wet, it is very susceptible to any sort of forming forces like pulling and pressing.
Wringing it out will easily misshapen your pants to a point that they may be unwearable.
Don't dry it in direct sunlight
Sunlight may seem like a good idea when it comes to drying things quickly, but 'quickly' shouldn't be a thought in your head when it comes to drying leather. Almost all quick processes when it comes to drying leather will damage it. Drying leather takes a lot of time, patience is best or else you'll end up drying it out too much and risk cracking or stiffening.
The same goes for any heating element like a blow dryer or heat gun. Direct heat and extreme heat is bad for leather, even faux leather.
Do give it a lot of ventilation in a dry room
Ventilation and dry conditions are great for drying leather pants. These conditions will properly dry the pants while avoiding the risk of mold growing on the pants. You may sun dry the pants to get the majority of the moisture out, but do not leave them in the sun to dry completely. Sun dry only until it is damp.
Do use an electric fan to keep air flowing
An electric fan is a great way to speed up the drying process without introducing any harsh heat. It won't be as fast as using a heating element, of course, but the extra airflow will help the water evaporate faster without the risk of damaging the pants.
Conditioning your leather pants
When your leather pants have been exposed to water, they may have lost their protective coating. This may even be true for faux leather pants. Here's what you should do after drying them.
Real leather pants
Real leather pants should be conditioned with leather conditioner. This will help make it soft and supple once again and also return its protective coating. You can use ready-made leather conditioners and those will provide an all-around solution.
Sale
However, you can also use beeswax or other types of waxes that are good for leather. Waxes will provide a great seal against stains or water. Alternatively, you can also use waterproofing sprays to make your pants extra water-resistant.
Faux leather pants
For faux leather pants, the best thing you can do is a special faux leather conditioner. Regular leather conditioners don't get absorbed by faux leather, so you'll just end up with sticky pants.
We recommend TriNova Faux Leather Conditioner and Cleaner. It will quickly absorb into your faux leather and protect your leather pants.
Conclusion
Leather pants are a great staple to add to your closet and they can spice up your look on almost any occasion. However, they can be difficult to clean and care for especially if you've never owned a leather item before. Washing them as you would on normal clothes is not recommended as it can shrink, dry out, or cause cracks. We hope that this article gave you enough details on how to properly wash your leather pants while minimizing the damage they might go through during the cleaning process.
FAQ
Should I wash leather pants inside out?
Ideally, yes. If you're planning to wash your leather pants using a washing machine, turning them inside out will lessen the possibility of them being damaged, and if so, it will be on the side that is not visible. If you're handwashing and there aren't any stains that you need to remove, turning the leather pants inside out will make it easier for you to get rid of smells without scrubbing on the outer material.