If you're a smoker or love barbecues, chances are your leather goods probably smell of smoke. Smoke can attach itself to many things like fabric and many other porous materials. If you're having visitors over or are going to a party, you wouldn't want your leather couch or leather jacket smelling like smoke. Here's how to get rid of smoke odors from your leather goods.
Does leather absorb smoke?
Yes, leather is a porous material. Smoke particles can make their way into the material and will give off that smokey smell for quite a long time. Faux leather is not as absorbent, but smoke doesn't have to be absorbed into the material for it to smell like smoke, it can stick to surfaces as well.
Can you get smoke smell out of leather?
Of course. In order to do this, you must be able to go deep into the fibers and remove it. This may include getting your leather material wet. Some methods are completely dry or do not involve soaking. Dry methods include using desiccants like baking soda or charcoal.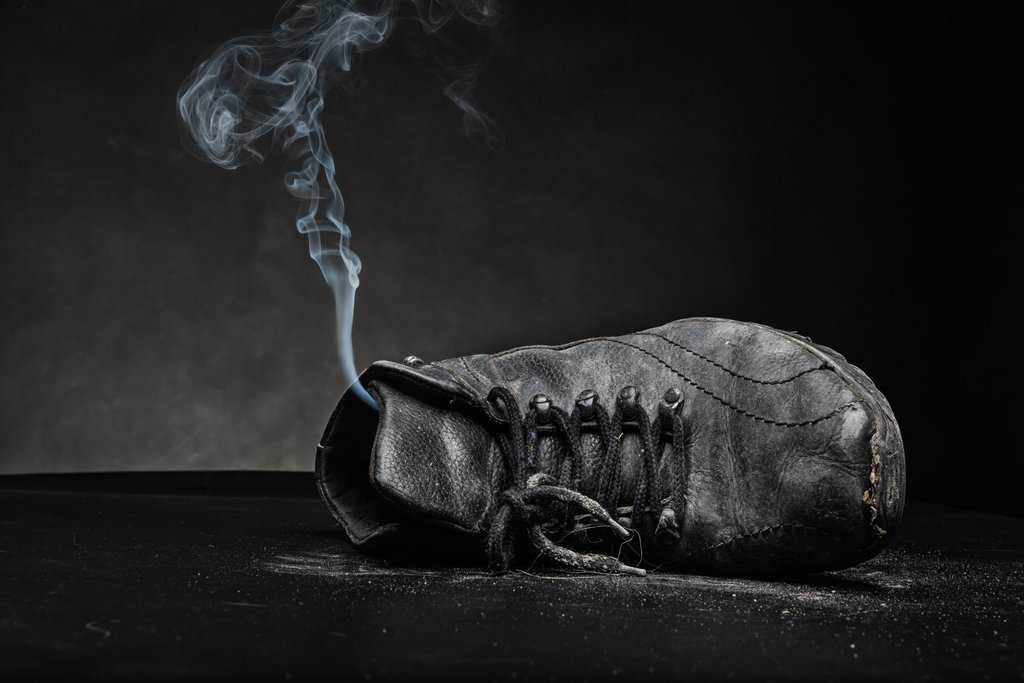 How to remove smoke smells from leather
In this guide, we will show you a few ways how you can remove smoke odors like cigarette smell from various leather items that most commonly hold those smells. We will start with the things you must note with each type of item and then we will show you the methods that will work best on them.
Leather jackets
Leather jackets can smell not only from the outside but also on the inside. The lining can absorb smells just as much as the leather can, if not better. For this, you will need to take care of both sides to completely get rid of the smell.
We suggest using baking soda to remove the smells as this is a completely dry method. It may be a bit messy because of the dry powder, but it is not as risky as getting your leather jacket wet. Check below for more details on how to use baking soda for leather jackets.
Additionally, if it smells like more than just smoke in the lining (think armpit smells), then you may want to consider the vinegar spray as well.
Leather bags
Leather bags are items that we constantly keep on us. If you also use this bag for work, then you would not want it to smell of smoke. Since this is a small item, you can also use the baking soda method.
Leather couches
Leather couches are quite large items. For this, you will need a more extensive method that will cover a large area quickly. We suggest spraying a fabric refresher or air freshener that can absorb the smells and also be able to cover the whole couch easily.
We will also include how to use activated charcoal on your couch if you have time to spare.
Faux leather car seats
Car seats are mostly made out of faux leather. For this, you can use air fresheners more liberally as synthetic leather is more chemically resistant compared to real leather. You may also use activated charcoal as it gives your whole car a deodorizing instead of just the seats and without the strong smells of air fresheners.
You may also use car air fresheners that attach to your car's AC if air freshener smells do not bother you.
Methods
1. Activated charcoal
Activated charcoal is best known for absorbing odor-causing particles in the air and this is different from the type of charcoal that you usually use for grilling. If you want to get rid of bad smells from your leather jacket, couch, car, or bag, absorbing the smell is better than just simply masking it.
Sale
All you need to do is set a bowl of activated charcoal next to your leather item and let it soak up all the pesky smells for around 2-3 days. This method is also great for faux leather car seats since you can just leave a bowl of activated charcoal somewhere in the interior of your car and leave it for 2 days to do its job.
For a faster effect on car seats and couches, you may also grab a very large plastic bag that can cover the whole couch or car seat and place an open bag of activated charcoal inside each seat to concentrate the deodorizing power of the charcoal.
2. Baking soda
The baking soda method is only ideal for leather items that aren't too big like your bag, jacket, or shoes. Obviously, we don't advise you to pour baking soda all over your leather couch and car seats because it's just not efficient.
Sprinkle baking soda all over your small leather item and let it absorb the smoke smells for about 20 minutes. However, if you insist on trying this method for larger leather items like couches and faux leather car seats, you can just fill a plastic bag filled with baking soda and leave it open next to the leather seats for 2 days to let it absorb the odors.
Baking soda is also effective for all sorts of unpleasant odors other than just smoke smells. It can remove body odors like sweat and any sour smells.
3. Leather deodorizer
You can never go wrong with a leather deodorizer since it's made exactly for neutralizing bad odors in leather items. These deodorizers usually come in two types; spray and stick deodorizers. However, if you're using it on larger leather items such as a leather couch and faux leather car seat, we recommend using the spray leather deodorizer.
Chemical Guys AIR_102_16 Leather Scent Premium Air Freshener and Odor Eliminator, Long-Lasting, Just Like New Scent for Cars, Trucks, SUVs, RVs & More, 16 fl oz
LUXURIOUS LEATHER SCENT - There's nothing quite like the smooth feel and luxurious scent of new...
USE IT ANYWHERE - Pet beds, cars, boats, hotels, restaurants, garages, work areas, hospitals,...
ELIMINATE ODORS - Leather Scent has active odor eliminators and neutralizers to rapidly subdue...
Simply swipe or spray the deodorizer onto your leather item and follow it up with a clean rag or cloth to wipe it down. For smaller leather items like bags, shoes, and bags, you can just use a stick leather deodorizer. Since the deodorizer is only used for neutralizing the smells, we suggest you choose one of the other methods we mentioned for more effectiveness.
4. Leather cleaners
Leather cleaners are all-purpose products that are usually stored in spray bottles. These are leather-safe and don't have a high risk of damaging or staining the leather. That being said, it a very gentle product so it might not get rid of the smells completely if it has penetrated too deeply into the fibers.
Sale
5. White vinegar
The acetic acid in white vinegar neutralizes alkaline odors such as tobacco smoke and cooking smells. All you need to do is dilute white vinegar with a bit of water and pour it into a spray bottle. Next, spray the white vinegar solution onto the leather item and wait for a few minutes before wiping it off with a clean and soft dry cloth to remove excess moisture.
When you're wiping your leather item with a cloth, do it in gently in circular motions. You can use this method for almost any type of leather item– big or small. In most cases, diluted white vinegar shouldn't damage the leather material, but if you don't want to use it directly on your expensive leather item, you can just put it in a bowl and leave it next to your leather item for odor absorption.
Another option may also be apple cider vinegar. However, some people may not like the smell of apple cider vinegar and the smell might linger for a few hours or days.
6. Fabric refresher or air freshener
Fabric refreshers or air fresheners are great ways to cover large areas quickly. They may also be used on the linings of bags and leather jackets. To use it on linings, it is best to use a fabric refresher with anti-bacterial properties to get rid of more than just the smoke smells.
These sprays may also be used on couches, but be careful not to let the fabric refresher soak into real leather couches as this can dry out the leather quite easily and could cause staining. It is best to spray the fabric refresher lightly and then wipe it after a few seconds.
7. Coffee grounds
Coffee grounds work similarly to activated charcoal, so if you don't have access to activated charcoal, you can just save your coffee grounds from your daily brew and use it as an odor-absorber for your leather items. Plus, they're especially great at neutralizing bad odors like smoke since coffee grounds on their own have a pretty strong and aromatic scent.
Place your coffee grounds inside a paper bag and leave it next to your leather item for at least 24 hours. If the smell on your leather item is pretty bad, you can leave the coffee grounds for more than 1 day until it neutralizes the odors enough.
Professional dry cleaning services
You can always opt for professional dry cleaning services if you want to make sure that you're leather item is treated properly from stains and unwanted smells. This works best on smaller items like a leather jacket or purse among others. If you want an in-depth discussion about leather dry cleaning, you can check out our article about getting your leather jacket dry cleaned.
Conclusion
Smelling of smoke always gives a bad impression, especially in professional situations and if you have guests over. Maybe you don't care about the impressions, but you do care about how your stuff smells because you care for it. We hope that we have helped you deodorize your leather goods and make it smell fresh again.
FAQ
How long does it take for leather to stop smelling?
If you leave your leather item to sun bask for a few hours, it may help with the smell. However, the time required may vary and excess exposure to the sun may be bad for your leather item. The charcoal and baking soda method usually take 1-2 days or longer for the best results. Air fresheners and fabric refreshers work instantly, but the scent may be too strong for some people.