High-quality leather jackets can last up to or even more than 20 years. Faux leather jackets can last up to 2-4 years and suede jackets can last a lifetime if worn occasionally and taken care of properly. Leather jackets become a part of your identity, and they're expensive too. It's best to take care of them to make the most out of your money and let it last as long as it can.
What can damage leather jacket?
Besides the obvious, unconditioned leather that is left to dry out and crack will destroy the leather. It should also be noted that excess water exposure without waterproofing may cause the leather to mold if stored improperly. It may also produce water stains. Check out how to protect your leather jacket from water and rain if ever it's hard to avoid it from getting wet.
Should I condition my leather jacket?
We would suggest you do. Although some people go by the philosophy of worn-out leather jackets and don't condition them or do anything to take care of them. However, if you're reading this, you probably want to keep your leather jacket looking clean and pristine. In that case, you should condition them and use leather conditioning products to keep the leather fresh.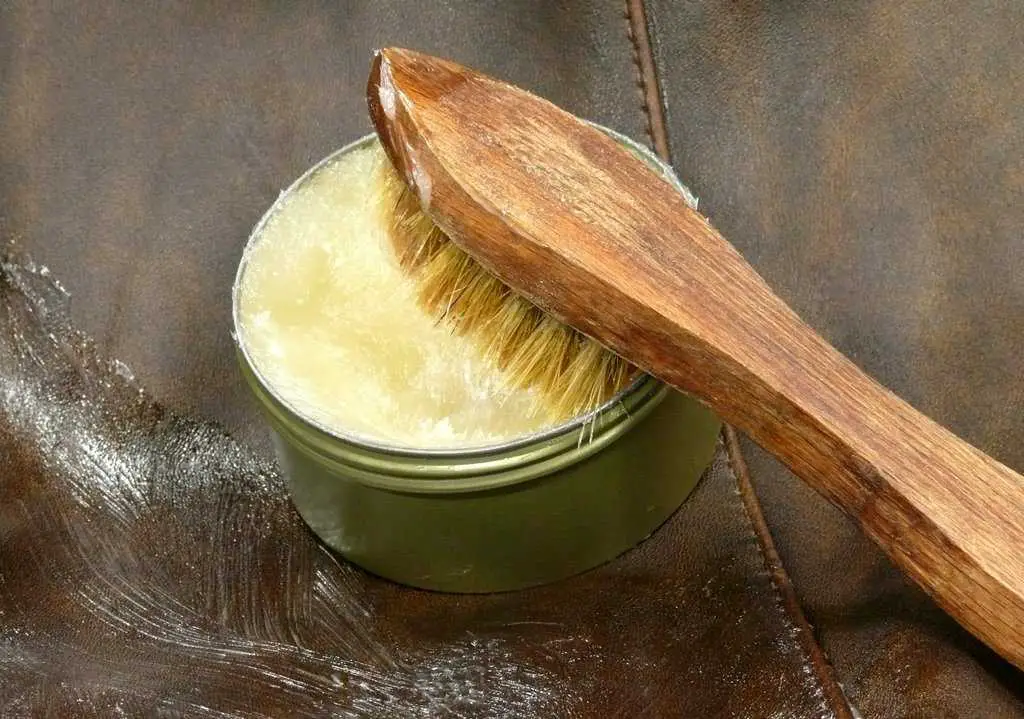 How often to condition leather jacket
Conditioning your leather jacket should be done at least once every 6 months if you use it frequently. However, if you are exposed to harsh conditions, you need to look out for a chalky or dry feel on your leather jacket. In contrast to a lustrous feel, dry leather will feel wrinkled to the touch. That is the time when you should reapply the leather conditioner.
What should you not use on leather jacket?
Caring for leather jackets requires you to pay attention to the products that you're using. Never use harsh chemicals on leather like bleach or ammonia-based products as they can damage the leather fibers. Also, you should only use water sparingly as well as baking soda, white vinegar, and other oils as these can still leave stains on the leather.
How to care for leather jacket
Different leather materials mean different ways of taking care of them. Top grain, full grain, suede, and faux leather jackets all have different feels and looks to them which means you need to be able to distinguish the type of leather you have to know how to properly take care of it. We will go through what you should and should not do to different types of leather jackets in this section.
A wide wooden hanger should be a bare minimum for all leather jackets as well to avoid bending the leather too much on thin plastic hangers.
Faux leather
When taking care of faux leather jackets, you must remember two important things. First, faux leathers are made of non-porous materials, which means that stains will most likely just sit on its surface. The second is to never let it get too dry as it can easily crack and peel. Here are some things you should keep in mind:
Sunlight
Direct sunlight and extreme heat are never good for faux leather as these elements can dry out your faux leather jacket. If you like wearing your faux leather jacket when it's hot outside, always make sure to use a leather conditioner to maintain its suppleness and prevent it from drying out.
Additionally, direct sunlight will degrade the adhesive and plastic used for the faux leather, making it more prone to peeling.
Color transference
If you plan on washing your faux leather jacket, never put them in the washer with your other clothes. Clothes or jeans with strong dyes can easily cause obvious stains on your faux leather. Even if you're handwashing them, mixing your faux leather jacket with dyed clothes can cause color transference.
Soft and non-abrasive cloths
Faux leather is a delicate material that can easily peel if you use harsh cleaning materials on it. When removing stains or conditioning your faux leather jacket, do not rub it harshly. Instead, do it in circular motions repeatedly until you cover all the surfaces using a soft cloth.
Note that faux leather does not absorb conditioner, so it is best to wipe as much of it off to avoid making the faux leather surface too sticky.
Petroleum-based chemicals
Avoid getting any synthetic grease or petroleum jelly on it. These chemicals are known to degrade plastics and will break down faux leather with prolonged contact. Plastics are commonly petroleum products and they will interact with petroleum-based chemicals. The effects are not immediate, nor are they perceivable to the naked eye. However, they weaken the plastic and make them brittle.
Full-grain and top-grain leather
In caring for real leather jackets made from top-grain and full-grain leather materials, you should aim to preserve the character of your statement piece. Compared to faux leather materials, real leathers are more durable, but that doesn't mean you should just leave it as is when it needs maintenance (unless you like the rugged and worn-out look). 
Avoid harsh chemicals
This applies to all types of leather, but most especially to full-grain and top-grain leather because these can affect and alter the texture, color, and strength of the material. For real leather jacket maintenance, the safest way is to just use mild hand soap or mild detergent and microfiber cloth. Harsh chemicals should definitely be avoided on aniline leather as it has a high chance of removing the dye.
Natural patina
Real leather will develop slight imperfections and marks over time and that's completely normal. Many people actually consider these imperfections as a positive aspect as it tells a story and makes the patina more unique for each material. You can use leather conditioner in taking care of your leather jacket, but the natural patina will always shine through the longer you own it.
Sale
Don't use shoe polish
You might be tempted to use shoe polish on your real leather jacket to restore its shine, but you shouldn't do this. Shoe polish should only be used for shoes as it can clog the surface of a leather jacket and cause discoloration or dryness. It's better to stick with leather cream or lanolin wax if you want to restore the shine of your leather jacket.
Also, avoid conditioning your jacket too much, it will have a waxy secretion once the absorbed conditioner seeps out of the pores.
Suede
You can think of suede as leather that's inside out because that's basically what it is. Made from the skin on the underside of animals, it has a softer and velvety texture compared to the other types of leather we mentioned above. To care for a suede jacket, you need to focus on trimming, smoothening, and buffing the surface.
Use a suede brush or suede cleaner
This is a must-have if you own a suede jacket and you want to ensure that it lasts for a long time while looking brand new. A suede brush and good suede cleaner can remove stuff marks and minor spots on your jacket, especially dirt around the jacket collar. All you need to do is brush it gently in the direction of the grain and this will smoothen it out pretty quickly.
Shacke Suede & Nubuck 4-Way Leather Brush Cleaner
Classic Suede Brush & Nubuck Cleaner – Hands down the most effective suede brush on the market to...
No Added Solutions or Other Brushes Needed – Although protective spray is encouraged, our brush...
The Best for Removing Heavy Dirt and Scuff marks – Regular brushes just spreads dirt around and...
Don't wear it every day
Allow your suede leather jacket to breathe and don't wear it every day to prolong its lifespan. Make sure to hang it using a sturdy hanger and leave it to air dry after each use. Suede is pretty sensitive to climate and temperature changes so as much as possible, only use it on special occasions when the weather is right.
Use water repellent spray
Water is the greatest weakness of suede since it can harden the suede surface of your jacket, so we recommend using a suede protector spray which is basically a hydrophobe spray to protect it from rain and accidental spillage.
Nikwax Nubuck & Suede Proof Spray-On ,4.2 oz. / 125ml
Clean first with Nikwax Footwear Cleaning Gel for best results
Spray-on application. NON-AEROSOL spray application to avoid negative environmental impact
Recommend for use on all textured leather shoes, coats, and gloves; safe for GORE-TEX
Conclusion
Taking care of your leather jacket is essential not only for aesthetic purposes but also to ensure that it lasts for a long time. It's a no-brainer that as much as you can, you should only use leather-specific products for your leather jacket. However, if you don't have access to them and you need to clean your leather jacket immediately, then you should know the specific leather types to make sure that you don't inflict damage on the material.
FAQ
What is the lifespan of a leather jacket?
Leather is a durable material, especially genuine leather plus it's known to age like fine wine. With proper care and conditioning, it can last around 20-30 years. How you store your leather jacket is also a pretty vital aspect of it since hanging them up in your closet is not enough. This means that you need to consider the weather conditions to ensure that it lives up to its maximum years.
Can I use coconut oil on my leather jacket?
We don't recommend using coconut oil on your leather jacket because it can leave a patch-like and spotty appearance. It will also leave your leather jacket feeling sticky. On the other hand, it will soften your leather and provide a thin layer of water protection, but it's not worth the damage and uncomfortable feeling. It's still best to use leather oil or leather cream to bring back the suppleness and moisture of your leather jacket.