Cafe racer leather jackets have made quite the impression over the years, not just on motorcycle riders but also in the fashion industry. When it comes to motorcycle garments, people are looking for that perfect combination of protection, comfort, and style– and cafe racer jackets offer just about all of those.
In this article, we'll talk about everything you need to know about the origins of cafe racer leather jackets, what makes them different from other motorcycle jackets, as well as some styling tips that might come in handy.
History of cafe racers and their influence on leather jackets
The most common style of cafe racer leather jackets originated in England in the 1960s. Cafe racing started when soldiers that were returning home from the war would go to pubs and cafes to race on motorbikes to have a bit of fun. The cafe racer jacket then came into the picture as a protective leather motorcycle jacket that helped them race more efficiently.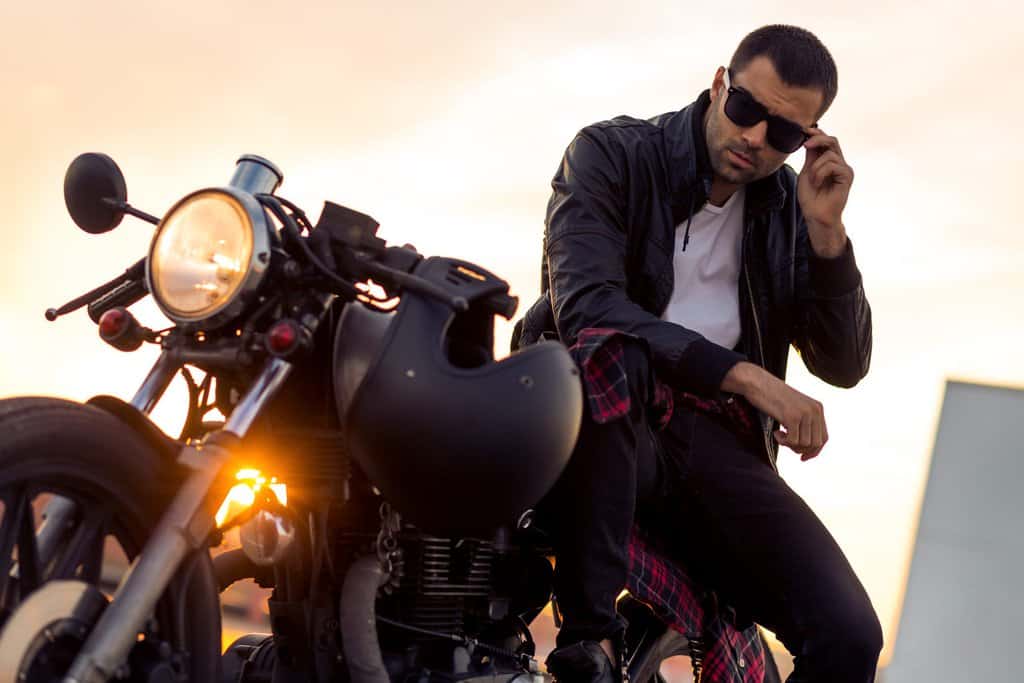 Cafe racer jackets during that time were made out of heavy horsehide for a more refined look compared to cowboy leather jackets that came with bells and frills. Today, we often see this mainstream type of leather jacket characterized by its lightweight and minimalist design.
What defines a cafe racer leather jacket?
The only downside when it comes to leather cafe racer jackets is that since they are lightweight, they don't come with armor. Nowadays, if you're a speedster who likes to go over 60mph, this cafe racer jacket might not be for you. We recommend buying an armored motorcycle jacket since they are abrasion-resistant with armored protection and paddings like elbow armor and back armor.
The original British cafe racers back in the 1960s were often seen with a distinctive large collar and offset zipped leather jackets with press studs. Since then the style went through minimal changes over the years, but the traditional cafe racer jacket has retained its banded collar and streamlined leather design.
Chest pockets
Most cafe racer jackets have chest pockets and zipped cuffs. Most types of leather coats that you wear daily often come with small zipper handle for the pockets. However, the cafe racer jacket pockets are designed to have a decorative chain or ring to make it easier for you to open or close them even when you're wearing gloves.
Zipper cuffs
When it comes to functionality, these jackets also often come with zipper cuffs to prevent strong winds from blowing up your sleeve. When you are out on the road riding your motorcycle, it is essential that you don't meet any distractions, and flailing cuffs from your jacket is definitely not something that you want to experience.
Small snap collar
Cafe racer jackets are designed to have small snap collars, or sometimes with no collar at all. This is because people noticed before when they were racing that the collars often flap in the wind, distracting the riders and potentially putting them in danger.
High-quality leather
Most importantly, when looking for the best cafe racer jacket, you should look for high-quality leather like top-grain or full-grain leather materials. Sure, you can find cheap jackets made from low-quality genuine leather, but they just won't offer you the same level of protection compared to their high-quality counterparts.
When you're out on the road and exposed to all kinds of harsh weather conditions, a low-quality cafe racer jacket won't last long. The dust, moisture, rain, and extreme heat can all greatly damage the faux leather material. It's best to invest in a cafe racer jacket from the start made from durable, high-quality grain leather like napa.
The Cafe Racer – Heritage European Racing Style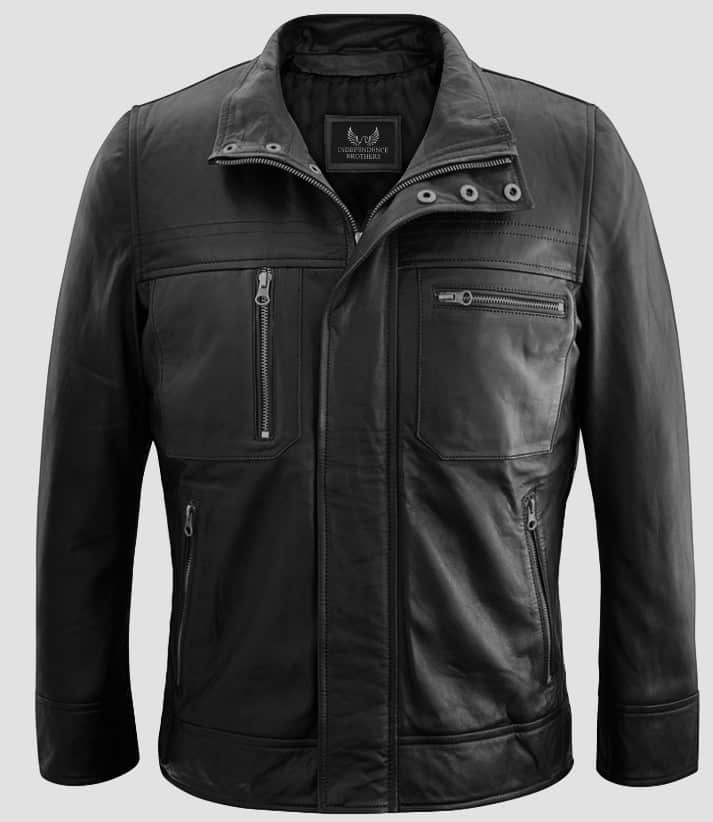 Check Price on Independence Brothers
How should a cafe racer leather jacket fit?
A cafe racer leather jacket should fit you snuggly – just enough that it doesn't constrict your movements, but also it doesn't catch the wind when you're riding a motorcycle. After all, the purpose of this leather garment is to make you more aerodynamic while providing a protective layer for your upper body. Cafe racer jackets also have a higher waistline that makes them more comfortable when sitting.
If you're wearing a classic cafe racer leather jacket just for fashion and you don't plan on going on a motorcycle ride, you can just go for the general rule of thumb for sizes– not too big or not too small.

In our article discussing tailoring leather jackets, we go into extensive detail on how leather jackets should fit.
Ionic Black Leather Jacket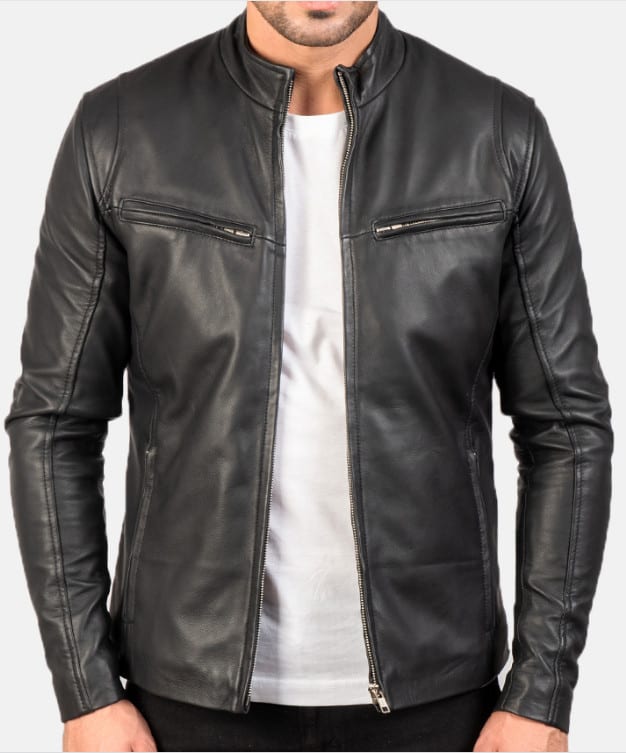 Check Price on The Jacket Maker
How to style cafe racer leather jackets
There are many ways that you can style your cafe racer leather jacket and it doesn't have to be the same outfit every time you go out for a ride. You can mix and match your garments to make them flow more cohesively with your cafe racer leather jacket. Here are some styling tips on how you can pull off your leather cafe racer jacket better:
Classic Roadie
If you're going out for a long ride, the classic roadie outfit is your go-to. Cafe racer jackets often come in colors brown and black, sometimes with or without pockets and you can never go wrong with these. The most important thing is that it is zipped up in the front so you can be more comfortable on the road.
You can pair your leather cafe racer jacket with denim jeans and a nice thin shirt underneath if it's not winter, or a turtleneck if the weather is cool and windy. You should also go for the appropriate footwear for riding as well as sunshades in case it gets too bright outside.
Casual Day Fit
Even if you don't own and ride a bike, you can just wear a cafe racer jacket for style on regular days when you just want to look cool. Biker racer jackets are extremely comfortable so you can go on about your errands with full mobility. Go for cotton or denim pants along with a v-neck t-shirt, pair it with some sneakers and you're good to go.
Winter Layering
The Winter season is the time for layering clothes and a lot of people go for leather jackets when it starts to get chilly. This is because a leather jacket can keep you warm, but not too warm unlike winter coats, plus they go really well with leather pants and a turtleneck top too. In our other article, we talked about how leather jackets can keep you warm and layering methods for clothes during winter.
Conclusion
The cafe racer leather jacket is a must-have for people since it became a staple in the fashion industry. Leather coats in general are considered a classic garment that can make any outfit look well-put together. Even if you are not into cafe racers or any other type of motorcycle, you can still own one for the sake of fashion.
We hope that this article has provided you with everything you wanted to know about cafe racer leather jackets. If you want to learn more about how to maintain and keep your cafe racer jacket in pristine condition, you can check out our article on how to dry clean a leather jacket.
FAQ
What type of jacket is best for riding?
There are different types of motorcycle jackets depending on your riding style. Choosing the right jacket is crucial as it can be a matter of life and death situation. There are racing jackets, touring jackets, off-road biker jackets, and classic jackets that have their own functionality and styles.