It is not impossible to have your leather jacket resized to give you that perfect bespoke fit. However, it's not as easy as going to the nearest tailor or seamstress and letting them have a go at it. In this guide, we will tell you all there is to know about getting a leather jacket altered.
Can you tailor a leather jacket?
You definitely can. Just like any piece of clothing, it is possible for your leather jacket to be altered. However, it's not as straightforward as a DIY alteration with your home sewing kit. Not only are there special tools needed, but also special skills to use those tools and an understanding of how leather works. This requires a lot of practice as leather is very different from fabric, and the stakes are higher when you have an expensive leather jacket.
When getting your leather jacket altered, make sure to go to a leather specialist and not a regular tailor. The leather specialist will have all the tools necessary to give you a custom fit leather jacket.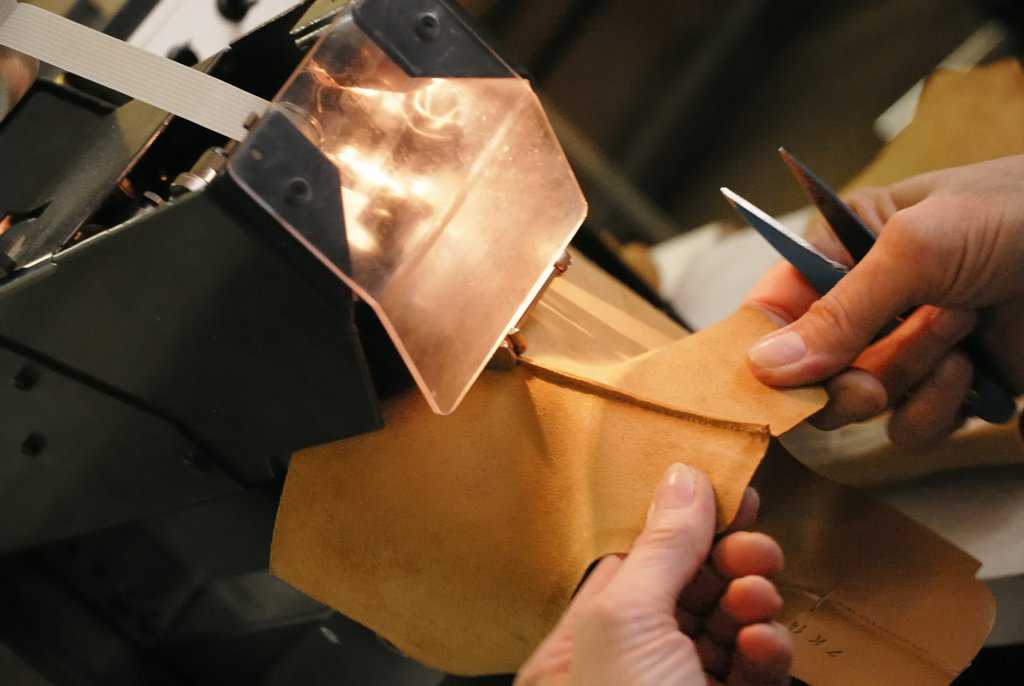 How much does it cost to tailor a leather jacket?
The cost of alterations depends on the adjustments you want to be made. The simpler alterations can cost as little as $30-50, but the more complicated leather alterations can cost up to $500. If you want to know how much your leather jacket specifically might cost, refer to the fitting guide below. We will also mention the relative difficulty those certain parts might be to alter.
How should a leather jacket fit?
There isn't a strict way that leather jackets should fit specifically, however, traditionally speaking, there are certain ways to tell if your jacket is fitting you correctly or not. We will show you how a leather jacket should fit from top to bottom, use these indications to know whether you should get your jacket altered, and which parts you want to be altered.
Shoulders and armpit
On most leather jackets, you will find a stitch that goes all the way around the armpit area on each arm. For this to fit correctly, this seam should be close to vertical.
When the upper part of the seam that rests on your shoulder is not on your shoulders and is pointing outwards, this is how you know that the shoulders are too wide and you should let the tailor bring this in for you. If the seam is perfectly vertical or the upper part facing inwards, then you should feel that it restricts your movement and the shoulders are too tight.
This seam should also hug your armpits or close to doing so. Not too tight that it feels like it's squeezing your armpits and cutting off circulation. Leaving some allowance is okay, but it should be no more than 3 inches (8cm) of allowance.
For a truly good fit, there should be just about an inch (2.5cm) of allowance. This allows room to stretch your arms outwards and cross your arms as well. The shoulders are a more complicated process as it involves removing the stitching on the upper back.
Torso and waist
To know whether the torso and waist fit you well, you should be able to zip the leather jacket up completely and it should be showing the form of your body. If the leather jacket is too loose, then it will look boxy and not conform to your body shape.
A leather jacket that is too tight around the waist and torso will not go back down when you lift your arms up. You could also tell if you are not able to zip the jacket up completely. Another indication of this is when it feels like the jacket is lifting your arms up to the side.
The length of the torso will depend on the type of jacket you're using. For most leather jackets, it should not reach your crotch level, this will make you look shorter. Bomber jackets and motorcycle jackets were made with sitting down in mind so the torso length is shorter and should be around belt level to accommodate for bent legs.
For cropped style jackets, it is too difficult to say what the right length is, as these are design features, and are not traditional leather jackets.
Altering the torso and waist areas are not an incredibly complicated process, but it is altering a larger area so it might cost a little more.
Sleeve length and tightness
The sleeves of a traditional leather jacket should be just below your wrists, but not cover the first joint of your thumb. Preferably, it should sit between your wrist and the first joint of your thumb when in a standing relaxed position.
It is common to have a length and tightness mismatch as there are people with big but short arms and long but thin arms. Thankfully, the sleeves are not as difficult to alter as compared to the shoulders and midsection of a leather jacket, thus making it less expensive to be done.
Shrinking your leather jacket to make it fit
If you want to make small adjustments to your leather jacket, shrinking might be a good way to do so. Shrinking your leather jacket can be done at home with relative ease and accessibility. If you want to know how to shrink your jacket, refer to our How to Shrink Your Leather Jacket guide.
Tailoring your leather jacket yourself
We do not suggest this. Unless you are already an experienced leather tailor, then you already have the tools and skills required to tailor a leather jacket yourself. However, if you are a beginner or do not have experience working with leather but have experience working with clothes and you insist on tailoring your leather jacket yourself, then we at least have to tell you what you will need and the risks involved.
Risks and precautions
Leather is a very specific craft, just like any craft, it needs to be learned and practiced. It also requires special tooling that no regular home has most of the time. The stitching used is more durable and doesn't use regular sewing thread. You can use a regular sewing machine, but only up until a certain thickness, and you cannot use a regular sewing machine needle.
You must also be aware of pre-existing stitching holes as creating new ones too close to the old ones could cause the leather to rip. Note that damaging the leather is almost always permanent when it comes to tears, deep scratches, and cracks.
We are not accountable for any damage you do to your leather jacket, but we would like to give you the best chances for success if you really want to do this yourself.
Tools and materials
When working on a leather jacket, there are specific tools and materials that you need to use in order to work with the leather properly. Here are the most important and what you will most likely use if you decide to work on your leather jacket.
Sewing machine
There is special machinery made for leather, but leather jackets are usually made of thinner leather, so normal sewing machines can be used on them. Normal sewing machines cannot go through thicker material and your sewing machine may not run as fast. You shouldn't run it as fast anyway as you should stitch at a slower pace when working on leather.
Sale
SINGER | Heavy Duty 4452 Sewing Machine , Gray
SINGER HEAVY DUTY SEWING MACHINE: The SINGER Heavy Duty 4452 sewing machine boasts an array of...
AUTOMATIC NEEDLE THREADER SEWING MACHINE: After following the threading path printed right on the...
HIGH-SPEED SEWING MACHINE: The Singer 4452 sewing machine has a maximum sewing speed of 1,100...
Leather sewing machines typically sew and move at a much slower rate compared to regular fabric sewing machines, but have features that can make it easier to work with harder leathers.
Leather needles
Leather needles are different from regular needles, especially when using a sewing machine as sewing machines are what is most commonly used when making and altering leather jackets. Hand sewing is most commonly used in making hard leather items like shoes, bags, wallets, and the like.
Leather needles for sewing machines have a bladed tip as compared to a pointed tip for fabric. The bladed tip pierces the leather and makes it easier for the needle and thread to go through. They also come in bigger sizes to accommodate larger threads.
Unwaxed leather thread
Using thread for fabric on leather will cause your stitches to come off quite easily. Fabric thread is too easy to break, thus the need for leather thread. Leather threads are usually made out of nylon or polyester and are much stronger, they are also thicker.
When using a sewing machine, it is best to use unwaxed thread as waxed thread is used for hand sewing. Using waxed thread on a sewing machine can potentially destroy or seize the sewing machine as the wax can get all over the machinery.
Additional tooling:
Button press:
Depending on what alterations you are making to your jacket, it may require you to fasten snap buttons, these usually require a button press and replacement buttons for the ones you took out.
Burnishing equipment:
You may also need burnishing equipment if you are exposing any burnished edges. Burnishing the edges of the leather will protect it from water and fraying.
Vest Conversion
A popular leather jacket custom project is to convert it into a vest. Leather vests are also another piece of leather garment that is quite stylish. If you want to convert your leather jacket into a vest, here is how to do it. Remember that there is no going back once you have started cutting.
Things you will need:
Steps:
Mark with the tailor's chalk where you want to cut and make sure you mark the outer portion on the side of the sleeve and not on the shoulder. Get it as close to the seam as possible
You may cut about 2 inches away from the line you marked. Shortening the sleeve first before the final cut will make the final cut easier.
Separate the leather from the lining.
Fold the lining into the jacket, you can cut this later.
Cut the excess leather as close as you can to the seam without actually cutting into the seam. Be careful not to cut any stitching.
Take the lining you folded into the inside earlier and cut it off. Make sure not to cut into any stitching on that side as well.
Tips and additional information:
The key to getting a clean job is to make sure there is no extra leather sticking out after the shoulder seam.
You may also burnish the raw edge with tokonole. We highly suggest doing this as raw leather can absorb moisture very quickly and may cause water damage.
Sleeve length shortening (the easy way)
Shortening the sleeve is not as easy as vest conversion, however, it can be done with the right tools. You may use a sewing machine but is quite possible to hand sew as well. We can only show the directions to shortening sleeves without zippers as zippers can make the job quite complicated. It is best to take those to a tailor, thankfully sleeve shortening can cost as little as $30-50.
Things you will need:
Leather thread (unwaxed if you're using a sewing machine)
Leather needle (for sewing machines, match the needle size with the thread you're using)
Large needle (80/12-90/14 size for hand sewing, or match needle size with the thread required)
Lighter
Sewing machine (optional)
Seam ripper (optional)
Steps:
Measure your desired length and mark it with the tailor's chalk. You may need to offset this is there is a separate piece of leather for the cuff. If not, then mark directly from the actual edge.
If there is a separate cuff, you may use a seam ripper to carefully remove the stitching and separate the cuff.
Cut a half inch beyond the desired length for hem allowance when sewing.
Draw a line where you plan to stitch the hem.
Fold the extra leather and lining inwards and secure the fold with quilting clips. Do not use pins as it will pierce the leather.
If there is a cuff, you may place it on the leather, overlapping them slightly for seam allowance. Secure the cuff position with longer quilting clips.
Begin to sew along the line leaving some thread at the beginning and end. If you're using a sewing machine, remove the quilting clips as they close in on your presser foot.
To finish stitching, cut off the extra thread and tie a small knot at the beginning and end areas. You may then use a lighter to burn off the extra thread.
Conclusion
If you've gained or lost weight or your leather jacket just hasn't fit right, there are always ways to make it yours and fit you well. An ill-fitting jacket can ruin your whole aesthetic and do the opposite of making you look good.
This guide is aimed to help you make the right decisions and know what you should be looking out for when you want to get your jacket altered, we hope we have achieved this. We may have suggested ways on altering them yourself, but it is really best to leave this type of work to leather professionals.
FAQ
Can a leather jacket be made bigger?
Yes, but to a very limited degree. Leather jackets do not have large seam allowances, and even then you will be exposing the previous stitching and leave ugly holes. However, you are able to stretch leather slightly with steam if you only need a very slight size change.
How long does a tailor take?
Alterations can take as short as a day or two, or up to a month depending on how big the alteration is and how booked the tailors are. You may inquire at the leather tailor you plan to get your jacket tailored. Reputable tailors may take longer as they will most likely have many clients, but their quality of work will be worth it.
Do leather jackets stretch or shrink?
It can do both, depending on how you handle it. Steaming can do both enlarging and shrinking with slight changes to your handling. Refer to our shrinking guide, the techniques may also be used for stretching.