Tears and holes in your leather jacket will not only ruin its aesthetics but will also open up you up to more risks of having a bigger tear that will eventually be unrepairable. To prevent this from happening, you should fix your ripped leather jacket as soon as you can. Of course, there are professionals that can do the job for you, but if you want to D-I-Y, then this article will help you through it.
Can you fix a ripped leather jacket?
Technically speaking, no you can't. The fibers that have been torn on your leather jacket will never be able to come back together. However, you can cover it up with patches or close up a cut to make it seem like it was never there if it isn't inspected too closely.
Patches to cover up Tears
Some damage can't be repaired or is too risky to repair. Patches, like the ones you can use on your denim or fabric, can also be used on leather. You can even opt to go to your local leather shop and ask for patch designs and even let them put it on for you.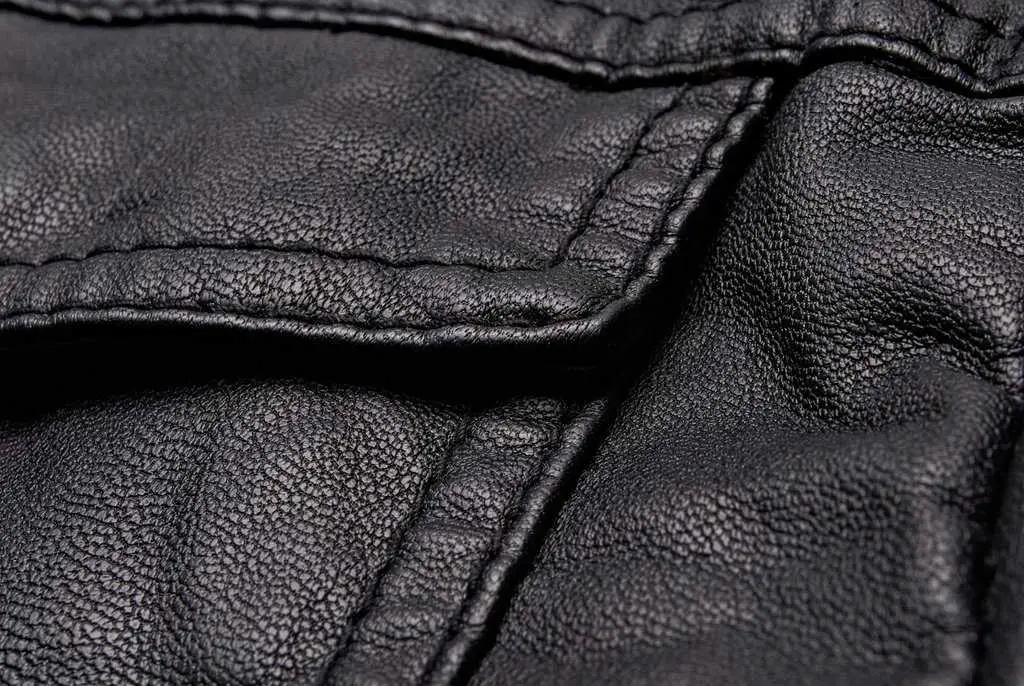 Doing it yourself is quite simple. You can choose adhesive patches or sew-on patches.
Iron-on patches or adhesive patches
Adhesive patches are very easy to put on. However, you should consider them as permanent or close to it as the adhesive is quite strong and will leave a residue on the leather if removed. One advantage adhesive patches have over sew-on patches is that it's very easy to replace them if you want to use a new design in the same area.
Note: Do not use iron-on patches for faux leather jackets. The heat will melt the plastic and warp your jacket.
Things you will need:
Iron
Cotton cloth or shirt
Adhesive patch
Interfacing fabric or lining material
Pencil
Steps:
Clean the area you're going to patch to give the adhesive the best chance of adhering.
Lay your jacket on a flat surface to make sure you can press it as flat as you can.
If you have a hole and not a cut or slash, use an interfacing fabric layer underneath the hole to prevent the adhesive from sticking to whatever is behind the hole. You may also sew this onto the lining to close it up.
Place the iron-on patch over the damage. Make sure that the patch is much bigger than the hole (at least half an inch on all sides) to make sure it has enough surface area to adhere to.
Place the cotton cloth or shirt over the patch and set your iron to medium-high heat.
Press the iron over the cotton fabric on the patch making sure the iron is only on the patch and not on the leather, even if there is a cotton fabric over it. Extreme heat is not good for leather.
Press for about 30-45 seconds, and no longer to avoid excess heat exposure to the leather.
Pro Tip: For a quick solution use self-adhesive leather repair patches.
Leather Repair Patch,Leather Repair Tape, 3 x 60 inches Leather Repair Patch for Furniture,Vinyl Repair kit,Leather Couch Patch,for Sofas, Furniture, car Seats, Office Chairs(Black)
Classic Size: 3 x 60 inches leather repair tape, you can cut any size as needed. Leather texture is...
Professional Leather Repair: leather repair kit are made of high-quality leather,with classic...
CONVENIENT AND EASY TO USE:Leather repair patch comes with glue and easy to use. You only need to...
Steps for faux leather:
(Steps 1 to 3 are the same)
For faux leather, you should use contact cement as it requires no heat. You may also use this for real leather if you don't want to use an iron.
With a pencil, follow the shape of the patch as close to the edge as you can.
Apply a layer of contact cement within the shape you drew on the jacket, and avoid going over the shape to prevent the adhesive from appearing outside of the patch.
Apply a layer of contact cement to the patch.
Wait for 20-30 minutes for the contact cement to dry. Do not stick it on immediately, this will make the contact cement less effective.
Once you've waited long enough or the adhesive is not tacky anymore, stick the patch on the area.
Sew-on patches
Sew-on patches will provide a more permanent cover-up and will pose less of a risk of it coming off. This will also hold the leather together more strongly than adhesive patches so the chances of the damage becoming worse or the patch coming off while wearing it are much lower.
We suggest using waxed leather thread and leather needles. You may also use a sewing machine if the leather on your jacket isn't very thick. If you are going to use a sewing machine, make sure to use unwaxed leather thread as waxed thread can damage your sewing machine.
Make sure to also use a leather sewing machine needle that has a piercing tip as normal needles may have difficulty going through the leather.
Sale
Faux leather patches
If your leather jacket is made of faux leather and you don't want to put an art patch over the damage, you can opt to use faux leather patches. They come in different colors and come with their own adhesive backing.
Faux leather patches are quite easy to use. You may also place the faux leather patch under the damage and copy the shape of the damage with a pencil and cut it to shape. You will have to sew an interfacing layer underneath, however, to give something the patch can stick to. You can then use a liquid leather kit or a leather repair compound to cover up the gaps.
If you don't want to use liquid leather, you can simply place the patch straight on top of the damage, making sure you still have the interfacing layer underneath to prevent the adhesive from sticking to anything behind the hole. This may be more obvious, however, as the patch will be quite visible on close inspection.
Leather Repair Kit
This repair method is ideal for long cuts and slashes on your leather jacket. You can easily find a leather repair kit online and some kits will require heat for you to use them. Buy a kit with the same color compound as your leather jacket to make the output more seamless.
Things you will need:
Gloves
Leather repair kit
Steps:
Clean the area around your leather jacket where the cut is to remove any loose dirt. Use rubbing alcohol and soft cotton in doing this.
Put on some gloves to protect them from the heat, adhesives, and tweezers you might need to use.
Take your patching fabric and cut a portion that is slightly bigger than the tear in your jacket. It has to be at least half an inch bigger on all sides.
Check your leather jacket for any loose fibers and remove them using scissors or tweezers that come with the kit.
Using tweezers, slide the fabric patch through the cut or slit and place them just right under it so it's basically inside the gap of your leather jacket.
Gently apply leather glue using a palette knife. Insert it inside the gap while making sure the glue is applied on the underside where the fabric patch touches your leather jacket.
Apply pressure to the glued area while pushing it toward the center to make the two sides meet.
Wait for the glue to dry completely and don't use any artificial heat on it.
Once it's dry, use a clean palette knife and scoop up some leather filler from the repair kit.
Fill in the tiny slit that is left so there is no more gap. This filler will also act as a bonding agent to prevent the cut from reopening.
Mix the color compound or leather repair compound from your leather repair kit and mix it in a plastic cup. Adjust the color so that it is as close as it gets to the color of your leather jacket.
Use a cotton swab to apply the color compound over the leather filler.
Once you are satisfied, condition your leather for a more seamless finish and to bring back its shine.
Conclusion
If you use your leather jacket frequently, especially when working or doing chores, you might accidentally tear a hole or rip through it, but that's no reason to panic. There are many ways that you can patch up and conceal leather tears on your jacket to make it look like it was never there in the first place. We hope that this article has provided you with the necessary methods to fix a tear in your leather jacket.
FAQ
Can you sew leather back together?
Sure you can. Many people who do upholstery do this and you can do this at home too using a leather sewing needle and thread. However, the process can be tedious and the result might not be as clean if you are not used to sewing. We recommend just bringing your leather item to a professional seamster if you want a piece of leather sewn back together. Sewing damage will also be very obvious, but it can be an aesthetic if done well.
What kind of glue can I use to repair leather?
There are specific types of glue that you can use for leather. Contact cement is one of the most common types of glue used in leathermaking, there are also contact cement formulated specifically for leather. However, it is safe to use almost any type of contact cement from reputable brands. Make sure to follow the instructions to get the best results.