Shoes will always have creases, but it would be difficult to wear leather shoes proudly if the amount of creases is unsightly. We want you to have leather shoes you can be proud of wearing. Here's how to remove and lessen the appearance of wrinkles on your leather shoes.
Can you get creases out of leather shoes?
Absolutely. Creases are a very common issue on toe boxes as we bend our feet when we walk. As annoying as creases are, you are always able to remove them. You can use a shoe tree and rub leather conditioner on the creases to soften that area up and massage it to remove the wrinkles.
Why creases are worse than they seem
Most creases on leather shoes, especially new ones are usually worse than they appear to be. Of course, they are still creased, this is no illusion. However, there is something on the shoes that exaggerates the creases.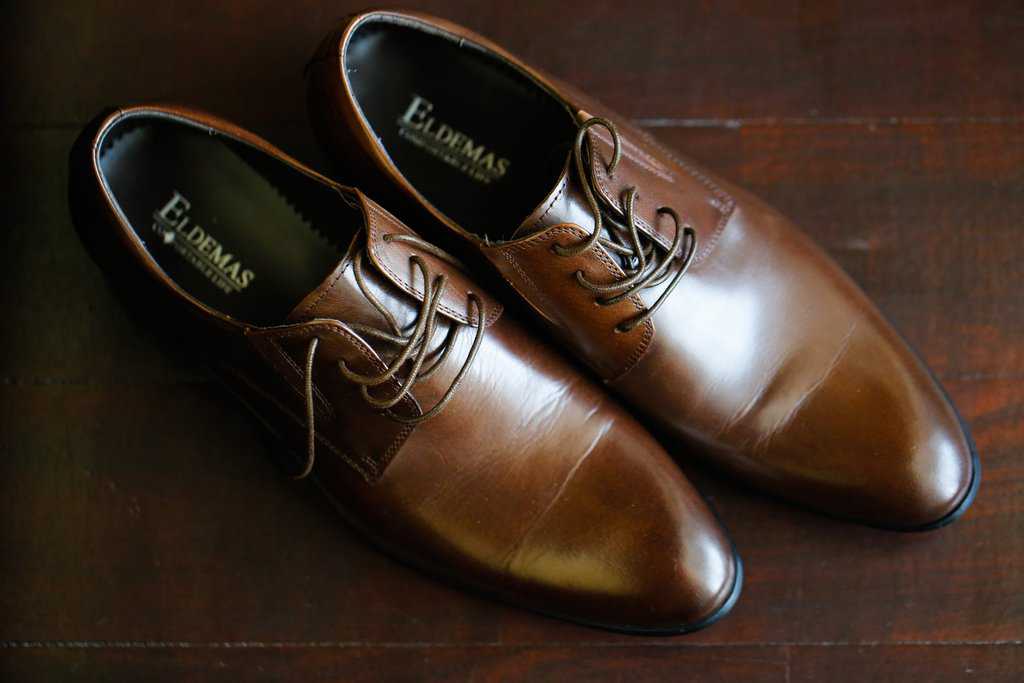 After leather shoes are made, they apply a finish to the leather. This coating protects the leather from light scratches and adds a waterproofing layer to it. This layer is quite thick and hard, however. When the toe box is bent, this layer will contribute to the creases like bending fabric that has had wax poured on it.
We will include a guide on how to remove this finish below, albeit with a heavy disclaimer.
Do note that we only suggest you do this on dark-colored shoes. Removing this finish will involve acetone, exposing the bare leather, and removing some dye. This can affect the color of light-colored shoes and will need redyeing. We do not suggest redyeing yourself if you are not experienced with dye as it will go through color changes as the dye dries.
It is best to take your light-colored shoes to a professional leather worker to redye your shoes to avoid inconsistent color.
Creases are natural
It is inevitable that your leather shoes get creased. We bend our toes as we walk and everyone has creases on their leather shoes unless they walk in an awkward and uncomfortable manner just to avoid getting creases on their shoes.
Unless you're willing to embarrass yourself by doing the penguin walk, we suggest you embrace the creases and learn to live with them. They are not something to be embarrassed about, they are a sign that you love your shoes and it adds character to your shoes.
You can occasionally do some crease removal if the creases are becoming too unsightly, but it is unreasonable for you to expect your shoes to be constantly perfect all the time.
The importance of shoe trees
Shoe trees are an essential piece of equipment for leather shoes. Shoe trees can do so much for your shoes.
We suggest wooden shoe trees, but more specifically cedar shoe trees. Other wood types are still suitable and can work great, but cedar can absorb sweat and bad odors.
Besides odors and moisture, shoe trees have a more important job. High-quality wooden shoe trees that are the right size for the shoe you're putting it in can help reduce creasing and keep your shoes looking great.
Without shoe trees, those shoes are eventually going to be misshapen and creases are only going to get worse. Shoe trees help stretch those creases out and maintain their ideal and natural shape. Vintage shoe trees are especially great as they are carefully handcrafted to fit shoes well and they can be found for great prices at certain thrift stores.
Shoe trees are a great investment and they can be reused your entire life. Some vintage shoe trees may even be older than you!
If you don't have a shoe tree or don't have one immediately, you can use newspaper to stretch the leather out while you're not wearing it. However, we do urge you to get a good shoe tree as newspaper filling is only a temporary solution and will not fill the back of the shoe.
How to remove creases from leather shoes
From thrift finds to maintenance crease removal, we will show you ways to creases from light creasing to very bad creasing. Some of these methods may not be ideal for genuine leather and are best for top-grain and full-grain leather.
Leather conditioner
Leather conditioner is a very easy and safe way to remove creases. This is one of the safest methods, but it may not remove very deep creases. This is best for maintenance and regular care instead of a restoration project.
Things you will need:
Soft cloth or clean cotton rag (optional)
Paper scrap or newspaper (if you don't have a shoe tree)
Sale
Steps:
Remove any dust and debris to avoid scratching the leather while rubbing.
Insert your shoe trees into the shoes to stretch out the leather and give them support.
With your bare hands or with a soft cloth, rub some conditioner into the shoes.
Massage the creased areas until they are minimized or aren't obvious.
Leave the conditioner for 5-10 minutes.
Buff the shoes until they have an even shine with the horsehair brush.
Tips and extra information:
In some cases, you may have to remove the wax already on the shoes. You may do this with a heat gun. Be careful in applying direct heat and wipe off the wax with a cloth. You can use acetone, but you might remove the dye on light-colored shoes which will need redyeing.
Hair dryer method
This method works well to soften up the wax that's causing the cracks as well as the leather. This will not remove the finish completely, but it can help reshape the surface and will provide you with an opportunity to smooth it out.
Things you will need:
Soft cloth
Shoe wax (optional)
Horsehair brush
Paper scrap or newspaper (if you don't have a shoe tree)
Steps:
Insert the shoe trees into the shoes.
Remove any dust and debris on the surface of the shoe.
If you're using a heat gun, use a medium-low setting. You may use the high setting on a hair dryer.
Swipe the heating element over the creases in a back-and-forth motion. Do not stay in one spot.
Once you see the surface changing texture, you may massage the area with the soft cloth on your fingers until some of the wax has been removed and the creases have been minimized.
Allow the leather to cool down for 5-10 minutes.
Apply leather conditioner and continue massaging the creases until they're barely noticeable.
Let the leather conditioner sit for 5-10 minutes.
Buff and brush the leather until a satin shine is achieved.
Iron method
Ironing shoes is almost unheard of, but it is possible. Although it might be a bit difficult to navigate the shoe with the iron, it will produce very quick results. This method is best used with a well-fitting shoe tree.
Things you will need:
Small iron (large irons will be unwieldy to use)
Cotton towel
Water
Paper scrap or newspaper (if you don't have a shoe tree)
Steps:
Insert the shoe trees into the shoes.
Wet the cotton towel with water. Wring them out until just damp, not dripping.
Set the iron to the cotton setting.
Take note of where the creases are.
Place the damp cotton towel over the shoes.
Iron over the damp towel making sure to move the iron back and forth.
Frequently check the creases on the shoes if they are minimized. You don't need to get them perfect.
Finish off the remaining creases with leather conditioner and massage those creases away.
After 5-10 minutes, buff the leather with the horsehair brush to give it a satin finish.
Removing the finish
As previously mentioned, we only suggest removing the finish on dark leather shoes. This is ideal on black shoes or very dark brown shoes.
DISCLAIMER: This method involves acetone. We would caution you to use this method with extreme care as it may damage your shoes and may put your own health at risk. Acetone isn't necessarily very dangerous to your shoe, but careless use can result in tragic results. Professionals constantly use acetone, but they have plenty of experience and a proper working environment to use such substances safely. They also have access to dyes in case they need to correct the color if the acetone has affected the color of the shoes.
It would be better if you took this to a professional instead as paying a professional will cost much less than destroying a good pair of leather shoes. We do not take responsibility for any harm that you may cause to yourself and your shoes.
Things you will need:
Horsehair brush
Butyl rubber gloves or acetone-resistant gloves
Properly-sized wooden shoe tree
A soft cloth or clean cotton rag
Shoe wax (optional)
Paper scrap or newspaper (if you don't have a shoe tree)
Steps:
Insert the shoe trees into the shoes.
Remove any debris on the surface of the shoe with the horsehair brush to prevent scratches while rubbing.
Wear your acetone-resistant gloves.
Take your soft cloth and wrap it around your index and middle fingers.
Apply acetone to the cloth, not directly on the shoe.
Rub the cloth on the shoes' toe boxes, focusing a little more on the creased areas and massaging them.
Reapply acetone 2-3 more times or until the creases are greatly minimized.
Apply leather conditioner with your hands or with another piece of cloth.
Apply shoe wax and polish with the rag or the horsehair brush.
Tips and extra information:
Make sure to use acetone-resistant gloves as normal nitrile gloves break down when exposed to acetone.
You can also use alcohol, but it won't be as effective as acetone.
Avoid applying too much shoe wax as it may exaggerate the creases like the original finish.
You don't need to remove the finish on the entire shoe. You can just focus on the toe boxes and areas that crease so the protective finish stays on the parts where it benefits from the finishes.
How to prevent creases on leather shoes
Besides constantly using shoe trees when you're not wearing your shoes, there are a few things you can do to prevent too much creasing too soon or too much.
Regular conditioning
As mentioned in the steps above, regular maintenance of your leather shoes is just as important as any leather goods. Conditioning helps the leather stay healthy and moist, which means that the leather stays soft and supple.
When leather is soft, it can move more easily without creasing. Conditioning also helps your shoes stay clean and evenly colored. Dry leather shoes become quite dull in color and are not as elegant to look at.
There are reputable conditioners such as Saphir Renovateur which has a neutral color that is suitable for all types of leather shoes. It also buffs into an even satin shine which can look good on its own without needing shoe wax.
Avoid applying too much wax
Shoe wax has a similar similar effect to the original finish that shoemakers and manufacturers use. Too much wax on your shoes can cause the wax to crack and exaggerate creases on your shoes.
In extreme cases, wax can even flake off of your shoes if there is that much wax applied. Wax is best applied very conservatively and with care to make sure that it produces a nice shine without creating a thick, waxy surface that can crack when bent.
Shell cordovan shoes
Shell cordovan is a horse leather that comes from the rear of the hide. It is a very luxurious leather material that is very water-resistant and shiny. You may not even need to apply wax in order for it to have a mirror shine.
One of the best characteristics of shell cordovan is that they do not crease as easily. Rather, the leather rolls when it is bent and rarely ever leaves crease marks. This material is quite expensive, but it may be worth it if you really don't want to deal with creases that much.
Conclusion
Creases and shoes come hand in hand. Whether you're wearing boots or oxford shoes, they will always crease as your feet need to bend while you walk. No matter how expensive the shoes are, they will always crease and wrinkle, not even Allen Edmonds can escape from creases. We hope these shoe care tips have helped you find ways to minimize those creases, though and figure out how to prevent them.
FAQ
Can you uncrease shoes with a hair dryer?
Yes. Hair dryers are able to soften leather, but too much heat can dry out and stiffen the leather, making the problem worse. It is best to stick to a leather conditioner and massage with your hands. You can use hair dryers to remove the wax, and then use a shoe tree and leather conditioner to do the actual crease removal.
Does high-quality leather crease?
All leathers have the capacity to crease, some less than others. Shell cordovan is known for its crease-resistance, but it will still crease eventually albeit not as bad as other types. It is best to accept and embrace the creases rather than obsess over not having creases at all. You can do periodic maintenance on your shoes to remove the worst of the creases and leave the unnoticeable creases alone.