Given enough time, a jacket's color may start to fade and look washed out. This may be appealing to some people as they may enjoy distressed leather, but for those that don't like it or either want a fresh new look to their jacket, there is always a way to dye it and make it look amazing again.
Can a leather jacket be dyed?
Absolutely. Leather can come in all sorts of colors and this is all because of the dyes used to color it. However, you shouldn't use any regular type of dye on your leather jacket. There are specific types of dye that work on leather, and using any other type of dye may ruin the jacket.
Can you dye a leather jacket a different color?
Yes, however, you cannot change the color of black leather. You are able to change the color of lighter colors, but it may interfere with the original color of the leather. It is best to test on a separate piece of leather that is the same color and type of leather your jacket has or test on a small part of your jacket that can be hidden.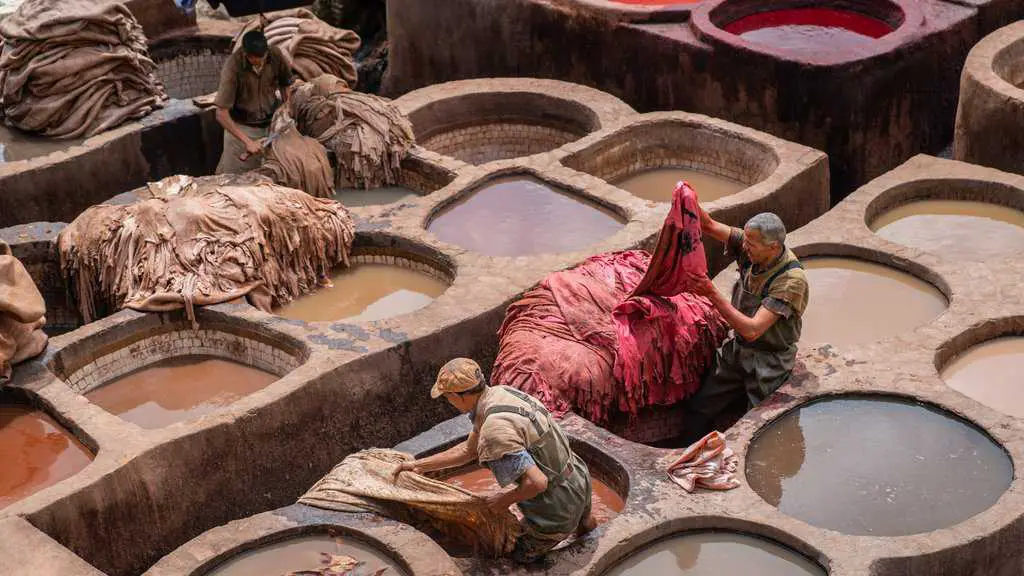 Where can I get my leather jacket dyed?
If you want to get your leather jacket dyed by a professional, the best choice would be to go to your local leather worker. They are most likely used to using leather dyes. If you are unsure of the quality of work they can do, you can ask for samples that they have worked on and see if it is to your liking.
How much does it cost to dye a leather jacket?
The cost of dyeing a leather jacket can vary depending on a bunch of factors; difficulty, size, materials, and labor. Typically they will range from $30 to $100. For coats, it may go beyond $100 as they are much larger and require more dye.
The risks of dyeing a leather jacket yourself
If you do not want to pay a professional and want to work on your leather jacket yourself, you should know what you're getting into.
Dye is permanent
Dye can stain everything, most especially absorbent materials. It can stain your skin and everything that it touches. That being said, it is also very permanent when it touches the leather. Leather dye works by penetrating and absorbing deep into the leather fibers. You will not be able to remove it if it goes too deep.
You may be able to remove it, but it will most likely require sanding and removing the dyed layer of leather, this will thin out the leather and weaken that part.
You can only go one way
For real leather, dyeing is a one-way road. You cannot go lighter and you can only go darker. You must also take note of color mixing and the interaction between the original color and the color that you're adding. As previously mentioned, you cannot change the color of a black jacket.
If you decide to dye your jacket black, know that it is completely permanent and you cannot change its color anymore.
The dye can dry out the leather
Leather dyes come in three common types. Oil-based, alcohol-based and water-based dyes. An oil-based dye may cause the leather to dry out, but not as much as an alcohol-based dye. Alcohol-based dyes are very drying products because of their alcohol content. Make sure to condition the leather properly afterward. We will include what you should do after dyeing below. The penetration of water-based leather dye is therefore more difficult and the drying time is slower than the alcohol-based.
How to dye a leather jacket
A dyed leather jacket can breathe life into your old leather jacket. Whether you want to retouch your leather jacket's original color, or you want to add a bit of luster and new color to it, you can easily do this at home with the methods we will discuss below.
Here are 2 ways you can dye your leather jacket at home:
Dip Dye
This method is best for small to medium-sized leather garments. If your leather jacket is on the smaller side of the size chart, dip dyeing might be the easiest way to go about it. You just have to make sure that you have access to a container that can fit your entire jacket in for dipping.
Things you will need:
Big tub container
Leather dye (your desired color)
Plastic or paper sheet
Cotton or tissues
Gloves
Steps:
Place a plastic sheet on your working table to avoid staining it. You can also use a paper sheet on top of the plastic sheet such as old newspaper so that the dye won't pool on the plastic.
Wear protective gloves, so your hands won't get stained.
Clean the surface of your leather garment using alcohol to remove any dust and debris.
Depending on how dark you want the dyed leather to be, you can dilute it using a leather dye reducer. The type of dye reducer you need will also depend on the type of dye you are using.
Carefully dip the whole leather jacket into the tub of dye. Make sure that everything is covered and dipped thoroughly before pulling it back out.
Once you remove it from the tub, immediately wipe off any excess leather dye on your item to ensure that everything is even and there are no patches. Use cotton or tissues for this step.
After making sure that there are no patchy dyes on your leather jacket, use a sturdy hanger and leave it to dry in a dry and well-ventilated room.
When it's dry, condition your leather item using a leather conditioner.
Tips and extra information:
There are alcohol-based and oil-based leather dyes, so make sure you buy the appropriate dye reducer for it to work properly.
This process needs to be done fast since leather dye dries up pretty quickly. You can work on this on the floor for more space while you move around swiftly to avoid a patchy leather dye.
Sponge Dye
This is similar to using a paintbrush, so you can opt for that if you're more comfortable. Compared to the dip dye method, the sponge dyeing method will require a bit more work from you since you can't finish the work in one go. However, what's great about this method is that it allows you to dye your leather jacket in two tones or more.
Things you will need:
Plastic container or old Tupperware
Alcohol
Gloves
Sturdy hanger
Plastic and paper sheet
Dye resist
Steps:
Follow steps 1-4 in the previous method.
Once your workspace is all set and your leather jacket is cleaned, you can start with the dyeing process.
Fill your plastic container or Tupperware with just enough dye and dilute it with a dye reducer until you get your desired color.
Dip the sponge into the dye container and remove the excess dye from it so it does not drip everywhere.
Carefully run the sponge over your leather jacket, making sure that the surface is evenly stained. To do this, only move your sponge in one direction and get as much coverage as you can in one motion.
Avoid the parts that you want to dye with a different color.
Repeat the same process with a different colored dye to get that two-tone effect.
This step can be tedious so make sure you are also using the appropriate sponge sizes.
After you achieve your desired shade and color with no patches, hang your leather jacket in a well-ventilated room using a sturdy hanger. Make sure that there is no direct sunlight on your leather jacket.
Condition the leather garment with leather conditioner once it's dry.
Tips and extra information:
Another way to achieve a two-toned effect for your leather jacket is to use a dye resist on parts that you want to retain a lighter color. Since dyeing your leather jacket can only make it go darker, applying dye resistance using a smaller sponge or brush on certain parts will prevent it from being stained.
Alternative
You may also use a leather dye kit and follow the instructions indicated on the kit. This may be an easier route for most people. However, if you are not able to find leather dye kits, the methods above will also give you great results.
How to seal the color
As mentioned in the risks section, dyes can be drying to the leather. Additionally, you don't want the dye rubbing off on your clothes or other things that the jacket may come into contact with. It is very important to seal the color of the jacket not only to avoid it from fading and drying out but also to protect your other things.
Carnauba Cream
Carnauba cream is more of a conditioner than it is a dye finishing agent, but it can still create a light coating over the dyed leather to help seal it from the elements. You can apply this with a clean rag and buff it in circular motions to also remove any excess dye on the surface. Alternatively, you may also use other leather conditioners and waxes and apply it in the same fashion.
Acrylic Leather Finishing or Resolene
Acrylic leather finishing, or from Fiebing's popular product Resolene, is a very common method of sealing in leather dye. It provides a flexible coating of acrylic on top of the leather that will act as a physical barrier to keep the dye from bleeding onto other things and rubbing off.
Sale
Fiebing's Acrylic Resolene, 4 Oz. - Protects Leather Finish
A flexible, durable and water resistant acrylic top finish for dyed, antiqued or polished leathers
Provides a soft, mellow shine while protecting your project for years to come
Is water-resistant and will not peel, crack or rub-off when fully dry while remaining flexible
You may apply Resolene by using a slightly damp cloth or sponge or dry sheep wool and rubbing it in circular motions all around the leather jacket. Make sure to work in small sections. Repeatedly rub the Resolene until it has dried up to a clear color to avoid large concentrations of the product on the leather.
Leave the leather jacket to further dry the Resolene and let it cure.
Fiebing's Tan-Kote
Another popular finishing product from Fiebing's used by leather crafters all around the world is Tan-Kote. Tan-Kote is resin-based and is more water-resistant compared to Resolene and can be buffed to a shine. Tan-Kote also leaves a higher-quality finish compared to Resolene.
Tan-Kote may also be applied the same way as Resolene.
Conclusion
Whether it's recoloring or changing the color of your leather jacket completely, giving your leather jacket a fresh new look will feel as if you've bought a new one. If dyeing your leather jacket is one way for you to revive that feeling, then we hope we have helped you achieve this.
Please make sure to read the risks and follow the instructions thoroughly as we want you to be able to execute it as best you can.
FAQ
What is the difference between leather dye and stain?
Dye is a very concentrated colorant, while stain is a diluted form that is ready to use immediately. There may be cases where you would want a more concentrated mixture of dye for darker colors, in this case you should get dye instead of stain. If you want to play it safe, you may use stain and apply multiple layers to darken gradually.
How long does it take to dye leather?
Leather dyeing is a lengthy process but only because of the waiting time. Applying the dye doesn't take much time, but you will need to wait overnight or possibly longer to let the color dry out. Not letting the leather dry completely will result in bleeding, even touching it could stain your hands and it will be very difficult to remove dye from your hands.