If you're one to take it a step further from just dyed leather and truly customize your leather goods with your own personal touch and artwork on it, acrylic paint is a great way to do it. We'll teach you everything you need to know about acrylic paint for leather and how to use it.
What you need to know about acrylic paint
Before you get started on painting, it is important to know what works best in order to give yourself the best chance of letting your artwork stay for a long period of time. The jacket will most likely outlast the artwork, but it's always a great idea to let it stay for as long as possible.
Can you use acrylic paint on leather?
Yes, acrylic paint is a different way to color leather as it sits on the surface and does not go deep into the fibers like dyes . It is an additive process, so there is a layer of paint built up on the surface that can be removed through abrasion or chemical solutions. Depending on the porosity of the material and the viscosity of the paint, it may absorb deeper into the fiber.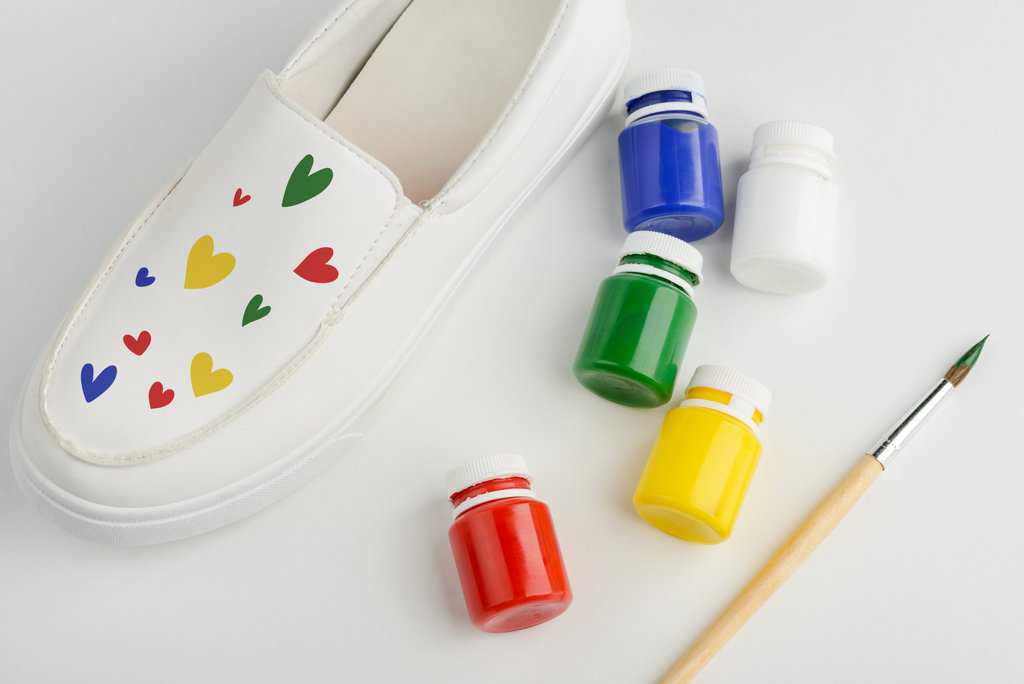 Can any acrylic paint be used on leather?
Yes, although it may be best to use leather-specific acrylic paint as they are thicker. Using regular acrylic paint may give you good results, but it might not last as long or will be too thin to last long on the item you're putting it on. Leather items like shoes and jackets usually go through tough conditions unless you only wear them on specific occasions and settings.
Does acrylic leather paint wash off?
It definitely can, especially when exposed to paint thinners, alcohol, and acetone. Although when dried, it's quite safe to wash without risking removing it with just water. If you want to ensure that it stays for as long as possible, the most important step is to seal it using an acrylic finisher after painting. Check out another guide on how to easily remove acrylic paint from leather.
Can I use acrylic paint on faux leather?
Acrylic paint is great for faux leather. You can use more types of acrylic paint and still have great results for faux leather as compared to regular leather as faux leather is made of plastic. Be aware that you should start with thin coats first to avoid your paintings from cracking. Thicker application of paint may result in acrylic paint cracking.
Can you use acrylic paint on leather shoes?
Acrylic paint is very popular when it comes to customizing shoes. Customizing shoes is very rampant in the sneakers niche and shoes of varying materials can be customized using acrylic paint, including leather shoes!
Can you use acrylic paint on a leather jacket?
Just like leather shoes, acrylic paint also works on leather jackets. Although due to their more flexible nature, it is best to start with thin layers to avoid the paint from cracking. The best types of paint are Angelus Acrylic Leather Paints. This type of paint applies solid color even with thin coats as long as you do not dilute it. Other brands of paint are also good, but it is best to go for ones that are specifically made for leather.
Other ways to paint with acrylic
If you're looking for other ways to paint your leather goods other than just paintbrushes, here is a list of alternative methods to apply acrylic paint.
How to apply Angelus Leather Paint
Angelus leather paint is a high-quality paint used by craftsmen from all over the world to paint various leather items such as shoes, jackets, purses, and others. Many prefer this brand of paint because of its flexibility as well as its long-lasting and water-resistant properties. For best visibility, choose bright colors when painting dark colored items.
Sale
Angelus Leather Paint Starter Kit Set of 12 1 Ounce Bottles
Set of Angelus Leather Paint in Twelve Colors
COLORS INCLUDED: Black, Blue, Brown, Turqouise, Lilac, Purple, White, Red, Orange, Yellow, Green,...
Our Paints are Non-Toxic, Water Based, Flexible, and don't Crack or Peel
How to apply Angelus Leather Paint on shoes
If you want to own a unique pair of leather shoes that are one of a kind, using the Angelus Leather Paint will save you lots of bucks while letting you experiment with over 100 colors available. There are many application methods for this and you can use a brush, foam, or cloth, depending on what you're comfortable with.
Things you will need:
Paintbrush or sponge
Masking tape or painter's tape
Alcohol
Soft cloth
Gloves
Plastic sheet
Craft knife
Steps:
The first thing you need to do is lay down a sheet of plastic in your working area. This is to prevent any mess from the paint.
Prepare the surface of your leather shoes using alcohol and a soft cloth. The leather paint won't stick and apply properly if your shoes are dirty and covered in dust.
Remove the shoelaces so you won't get paint on them.
Wear protective gloves to protect your hands from the paint while you're working.
Tape up the areas carefully where you don't want the paint to smear. This will ensure that the quality of your work is streamlined and clean.
You can shape the tape to the contours of the shoe by carefully cutting the excess tape with a craft knife.
Paint your leather shoes according to how you want them to look. Be sure to clean the brushes before dipping them in another color. The process is pretty much the same when you're painting on a canvas.
Let the shoes dry away from direct sunlight so that the leather material and leather paint won't crack.
Follow the steps below on how to seal the color and condition your leather shoes after painting them.
Tips and extra information:
Make sure that your work area has constant airflow and proper ventilation since the smell of the leather paint can be harmful if inhaled for a long time.
If you want to give it a very unique look, you can splatter all sorts of colors on it. You can use a toothbrush to create small splatters that can look like stars, or large splatters by flicking a paintbrush and letting it fly onto the shoes.
How to apply Angelus Leather Paint on leather jackets
If you have a leather jacket that you want to spice up, you can also use Angelus paint on it. Similar to leather shoes, leather jackets can also be made unique if you just have the right vision for them. The great thing about this process is that you can also treat it with a waterproofer to make your jacket waterproof (not just water-resistant).
Things you will need:
Paint brush or sponge
Alcohol
Clean cloth
Gloves
Apron
Mask
Plastic sheet
Cardboard
Sturdy hanger
Leather deglazer (optional)
Steps:
Clean your working space and place a plastic sheet on the surface to avoid smearing paint on your table or floor.
Prepare your leather jacket for painting with alcohol and a soft cloth. This will make it easier for the paint to adhere to the leather surface.
Wear protective gloves and a mask. Also wear protective clothing like an apron or painting overalls.
Place your leather garment on the table and insert a piece of cardboard inside the jacket to make the surface flatter and easier to work on. This also ensures that you won't smear paint on the inside of your leather jacket.
Carefully paint your leather jacket using the Angelus Leather Paint. As much as possible, do the motions going in one or two-way directions instead of just aimlessly smearing the paint on.
If you want to do the other side of the jacket, it's best that you let it dry and condition the other side before proceeding to the other.
Dry off the leather paint completely and follow the methods below on how to seal in the color and condition a leather jacket after painting.
Tips and extra information:
If you don't have cardboard at home, you can use a thin piece of wood. You can also insert the jacket onto the edge of the table to make it flatter and sturdier. Use any flat rigid surface to make sure that the painting is not warped.
If you are not familiar with using acrylic paint, is best to use a color-blocking technique and paint in shapes instead of drawing with the brush.
You may also use a leather deglazer to remove any oils, grease, and wax on the surface that may prevent the paint from adhering.
How to apply acrylic spray paint
When using acrylic spray paint, there are many things you should consider. First, you need to determine whether the type of leather you have is soft or hard and if it has been previously painted or not. Before you start with the spray painting process, here is a step-by-step guide on making sure that you achieve the result you have in mind.
Things you will need:
Acrylic spray paint or spray gun + Angelus acrylic leather paints
Stencils
Alcohol
Soft cloth
Gloves
Plastic sheet
Apron
Mask
Sturdy hanger
Steps:
Clean your working space and place the plastic sheet to avoid making a mess.
Wear all the necessary protective gear and clothing. Also, make sure that the room is properly ventilated.
Prepare the leather surface by using a leather deglazer or alcohol, using a soft cloth to apply it
If you have an extra piece of leather that is the same as the one you're going to work on, it's best that you do a test paint before painting the whole area.
Place the stencils on top of the leather garment. Since you will be using spray paint, it can be difficult to draw shapes on it and the stencils will make it much easier.
Avoid applying a thick layer of spray paint immediately as this can cause peeling and cracking.
After each thin coat, carefully bend the leather material to avoid it from getting stiff and eventually, cracking.
Use a sturdy hanger to dry off your freshly-painted leather item.
Follow the steps on how to seal acrylic leather paint below.
Tips and extra information:
Remember that spray paint is very sensitive to temperature changes and applying thinner layers as you work will allow it to be more flexible once it's dry.
Thin coats are best as thick concentrations of acrylic paint can drip when wet or crack with movement.
Aerosol sprays can be bad for the lungs. Be sure to spray outdoors or at least have a mask and good ventilation.
How to seal the acrylic paint and what to do after painting
The most important step after applying acrylic paint is to seal it. If you do not seal the paint, it could rub off very easily and stain whatever it comes into contact with. Here's how to steal acrylic paint on your leather goods:
Sealing with a spray finisher
This is the easiest method to seal your artwork as all it takes is a few sprays. In order to apply it, you will need to hold the canister 6-8 inches away from the surface and spray evenly. Add two or three coats of sealer if you want to add more protective finish. You can also buy different types of finishes like a gloss finish or a matte finish depending on your taste.
Angelus Acrylic Finisher
If you do not have a spray finisher available to you, Angelus has an Acrylic Finisher that may be available where you bought your paints from. In order to use this, you can use a brush, an airbrush, or a sponge. Angelus' acrylic finish is a very thin product and comes in different textures – matte, satin, normal (something in between satin and high gloss), and high gloss.
Alternatively, you can use other acrylic paint leather sealers that are reputable and have good reviews.
Avoid touching the finished areas until completely dry to avoid putting your fingerprints on them.
Conditioning
Since you have used alcohol to prep the surface and remove the protective coating, it is best to condition your jacket once again to moisturize the leather and avoid it from drying out too much because of the alcohol. You may also apply waxes afterward to add a layer of water protection.
Waterproofing sprays
If you want to take waterproofing to the next level, you can use waterproofing sprays to really repel water away from the leather. In our other article, we have discussed in deeper detail how to protect leather jackets from water.
Conclusion
The best way to make your leather items stand out is by designing them yourself. A custom-painted leather jacket or leather shoes means that you're the only person with that specific design on your item, making it a very personal item and expressive of your own identity. Additionally, painting shoes and jackets could potentially be a business for you to pursue and it's a popular money-making hobby.

We hope that this guide has helped you figure out how to successfully use acrylic paint on your real or faux leather goods.
FAQ
What Can Stop Acrylic Paints From Cracking on Leather Shoes?
To make sure that the acrylic paint won't crack on your leather shoes, you need to use a flexible type of paint. When you're applying the acrylic paint, do thin and even layers while carefully bending the material to prevent it from going stiff.
Is acrylic paint waterproof?
No, it isn't waterproof. However, it is water-resistant which means that it can repel water to a certain degree only. If you want to make it waterproof, then you can add a layer of waterproofing spray after the acrylic paint has dried off to protect it from water more thoroughly.