Curry is a popular dish known for its bright-colored sauce and heavily-spiced profile. This means accidentally spilling some on your leather item can be bad news. Don't worry though, because just like all other food stains and accidents, it can still be remedied using the right products and the appropriate steps which we'll be talking about below.
Does curry stain leather?
Yes, curry can indeed stain leather because this substance can penetrate deep into the leather fibers if not wiped off immediately. Curry is also the type of liquid that can get absorbed by leather quickly and if you're not careful, you might push down the stain deeper, which will be harder to get rid of.
Are curry stains permanent?
Curry stains on any fibrous surface including all leather types can leave a stain permanently. Not only will it leave a noticeable mark, but it will also leave a distinct smell that is unpleasant for your leather couch or leather jacket. One way to make sure that it doesn't stain permanently is to treat the affected area as soon as possible.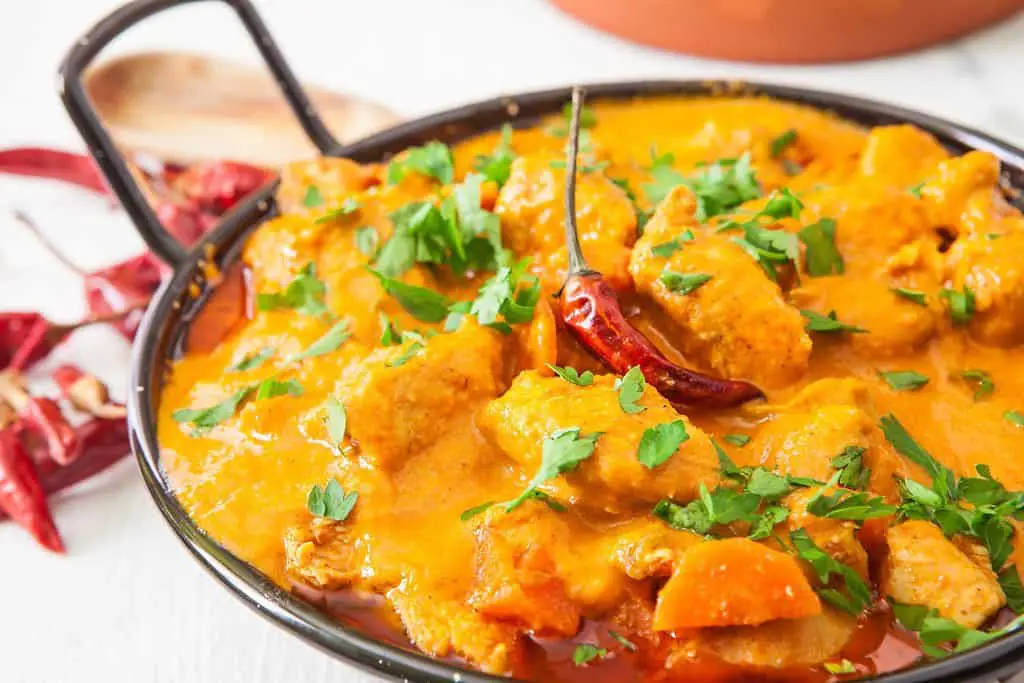 How to remove curry stains from leather
Curry is a delicious dish that you can enjoy at home or outside and sometimes mishaps happen. If you happen to spill some curry sauce on your leather sofa, leather shoes, or other types of clothing, don't panic just yet. Remember the golden rule of spillage on leather– wipe it off immediately with a dry cloth or paper towel.
However, different types of leather materials react differently to liquid stains, especially thick liquids like curry sauce. It's important to know what type of leather you have so you can treat it appropriately. Curry stains on suede or nubuck are more difficult to deal with compared to traditional leather. Here's why:
Traditional leather
Traditional leather is more of an umbrella term for anything that has a smooth finished surface. This includes vegetable-tanned and coated leather or anything made from top-grain or full-grain leather. These types of traditional leather oftentimes have pores that make it easier for the curry to penetrate.
Things you will need:
Soft cloth
Paper towel or dry microfiber cloth
Leather cleaner
Hydrogen peroxide
Lukewarm water
Steps:
Wipe off the curry spills on the surface using a dry cloth. Scan the entire item for any stains on the other side.
Take a damp cloth and wipe the surface of the leather upholstery or leather clothing. Do this very gently to avoid pushing the curry deep into the pores.
Use a leather cleaner to remove any residue that might cause some staining.
You can also use a hydrogen peroxide and water solution if you don't have a leather cleaner. Use a one-half cup of water per 1 tablespoon of hydrogen peroxide.
Wipe the affected area with a microfiber cloth in a circular motion using the cleaning solution.
If you've successfully removed the curry spill on your leather item, remove the excess moisture using a dry clean cloth.
Apply some leather conditioner to bring back the leather material's suppleness.
Suede and nubuck
For suede and nubuck, safely removing curry spills can be tricky. If you've spilled anything liquid and sticky on velvety and fibrous leather, it will immediately affect the look and feel of the item. However, it can still be fixed using the right method even if it has absorbed into the leather fibers.
Things you will need:
Suede or nubuck cleaner
Suede brush
Paper towel or any absorbent cloth
Baking soda
Soft-bristled brush
Steps:
Use a paper towel to remove the curry sauce on the surface immediately. Gently rub it to remove the curry residue that might be stuck on the fibers.
If you have a suede cleaning kit, use that as soon as you can to prevent the stain from permanently damaging the finish of the leather.
You may use a baking soda or baby powder if you haven't purchased a suede and nubuck cleaner yet. The baking soda will dry out the stain and remove the odors that come with it.
Brush off the excess baking powder after 12 hours using a soft-bristled brush.
Repeat the process until you're satisfied with the result.
Brush the entire surface of your item with a suede brush to bring the softness and fluff back. You may also use a vacuum cleaner if it's a larger area.
Don't forget to apply a waterproofing spray to prevent any accidental stains in the future.
Faux leather
When it comes to faux leather, you can clean it similarly to how you'd clean traditional leather goods. The only thing you need to keep in mind is that faux leather has a protective coating that can be stripped with harsh chemicals, so stay away from strong cleaning solutions.
Tips and tricks for removing curry from leather
To take care of your leather goods better and prevent them from acquiring stubborn stains throughout the years, here are some tips for you:
Always apply a leather protectant as soon as you buy a new leather item. Use a waterproofing spray to prevent any type of liquid damage.
Never wet your suede or nubuck leather items. If you need to deep clean them to remove a stain, use a suede-specific cleaner or saddle soap only.
You can use petroleum jelly on traditional leather to bind with different types of stains and remove them more easily using a clean cloth.
You can also use a mild soap and water cleaning solution for traditional leather if you don't have a leather cleaner on hand.
If you own a lot of leather items, leather wipes are always a good handy investment.
If the stain has dried on the leather fibers, you can gently scrape it off using a blunt tool.
How to get the smell of curry out of leather
There are many tools you can find at home that can remove any unpleasant smells on leather, including odors from curry sauce. Sometimes, even after the item has no visible stain left, the smell of curry can linger and it's just not something you want to be associated with your precious leather items.
To get the bad smell of curry out of leather you can use baking powder and dry coffee grounds for leather that cannot get wet. You can also use water and white vinegar solution or rubbing alcohol for traditional leather using the usual cleaning method. For the powders that absorb the smell, you'll need to leave them next to the item for at least 12 hours.
Conclusion
There's nothing wrong with eating on your leather sofa or eating out with your friends, but sometimes, accidents happen and you're now dealing with a stained leather item. If you're dealing with this kind of problem right now, we hope that our step guide has eased your mind knowing that it can still be fixed and there's no reason to buy a replacement just yet.
FAQ
How to get curry stain out of white leather?
As always, wipe off the leather surface as soon as it makes contact. If you don't have a colorfast-safe leather cleaner, you can use a mild soap and water solution to remove curry stains from white leather. This is the safest option since it's guaranteed not to darken leather, which is something you don't want for any light-colored leather item.
Does alcohol remove curry stains?
Yes, you can use a cleaning solution made from equal parts rubbing alcohol and distilled water. It can also remove any smells in leather from the curry sauce that might have penetrated into the pores. It's recommended to dilute the alcohol as it can be drying to the leather and will cause it to be brittle. However, you may not use this on suede or nubuck as those can't get wet at all.
Does toothpaste remove turmeric stains?
Yes, toothpaste can remove turmeric stains on almost types of fabrics including leather materials. However, for leather, it's only recommended for lighter-colored ones as it can cause some discoloration. Remember to use toothpaste that has no coloring and to test it on a hidden spot first as this cleaning solution is quite risky.
Does lemon juice remove curry stains?
Lemon can remove curry stains on any type of surface including traditional leather. However, we don't recommend this as your first choice as this fruit is very acidic and can cause tanned leather to fade and dry out. It's still best to go with a mild cleaning solution to avoid any unnecessary damage to the material.