Cyberpunk 2077 is one of the most hyped games from CD Projekt RED in 2020. The game showcases many types of fashion and ways to personalize your character. One of the jackets that you are able to attain by completing a certain set of tasks, is the Samurai leather jacket which is on the front cover of the game.
What is Cyberpunk 2077?
Cyberpunk 2077 is an action-adventure RPG game set in 2077, a fictional, futuristic, dystopian, North California. You play as the character V reliving the memories of a war veteran's digital ghost trying to find a way to remove him from your head.
The game is open-world and offers many personalization options to your character. This feature is so extensive that it is one of the most popular features of the game, allowing you to customize the face shape very specifically, as well as other body parts to a very detailed degree.
Along with the customization options are the wide array of clothes that your character can put on. Many of these include various leather jackets, suits, vests, and much more.
Samurai leather jacket from Cyberpunk 2077
The Samurai leather jacket from Cyberpunk 2077 is a replica of the in-game jacket. It comes with similar aesthetic features like its oversized high-standing collar with bright-colored accents on the inner side of the collar and the text "SAMURAI" in white text over a black strip of fabric on the outer side of the collar.
The jacket is made from brown-colored genuine leather and comes with rib-knit cuffs and a rib-knit waistline. There are two pockets located on the inner side of the jacket and there are no outer pockets. It also comes with long, quilted sleeves and a viscose fabric inner lining.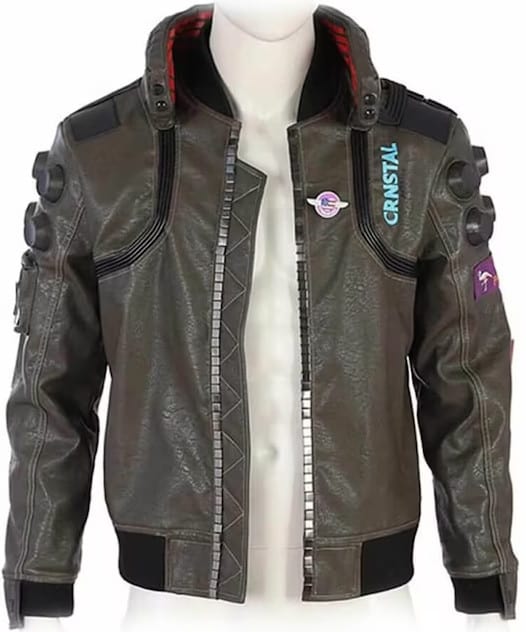 Other extra designs on the jacket include 4 large studs on each shoulder in a square pattern, shiny metal squares lined up along the zipper, a purple patch on the left arm near the elbow, embroidered text on the left side of the chest, and black rubber lines from the shoulders curving inwards to the armpit area.
The most important design element of this jacket is the large print on the back depicting an image of a figure of a head in red. The design of the head features flaming hair, two sharp teeth pointing outwards, and half of the face slightly revealing a robotic skull with its eye exposed.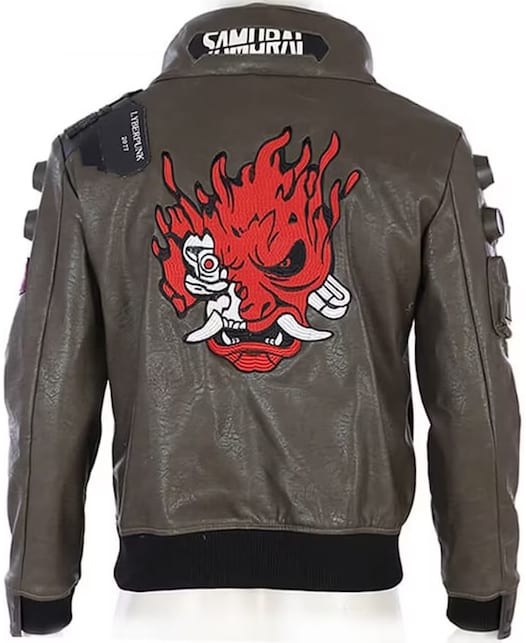 Where to buy Cyberpunk 2077 leather jacket
If you would like to purchase this jacket, you can find them on a few vendor sites such as Celeb Leather Jackets. The price usually goes for $145-180 depending on whether you choose real or fake leather.