Clorox Wipes are very versatile and convenient cleaning wipes. They do a great job at disinfecting all sorts of surfaces and materials. You might want to caution against using it on delicate materials, however. In this guide, you'll learn about Clorox Wipes and how to use them properly on your leather items.
What are Clorox wipes?
Clorox Disinfecting Wipes are one of Clorox's most popular home cleaning products known for their convenience and ability to disinfect surfaces from bacteria and viruses. They are not baby wipes nor should they be used for that purpose. It is able to clean and disinfect effectively because of harsh chemicals.
What do Clorox Wipes contain and what are they used for?
Clorox Wipes use a combination of isopropyl alcohol, other alcohols, and ammonium chloride in order to kill bacteria wherever it is wiped. These chemicals are quite aggressive cleaning agents. Alcohol is a very common cleaning agent, but we also know of its highly evaporative and drying nature.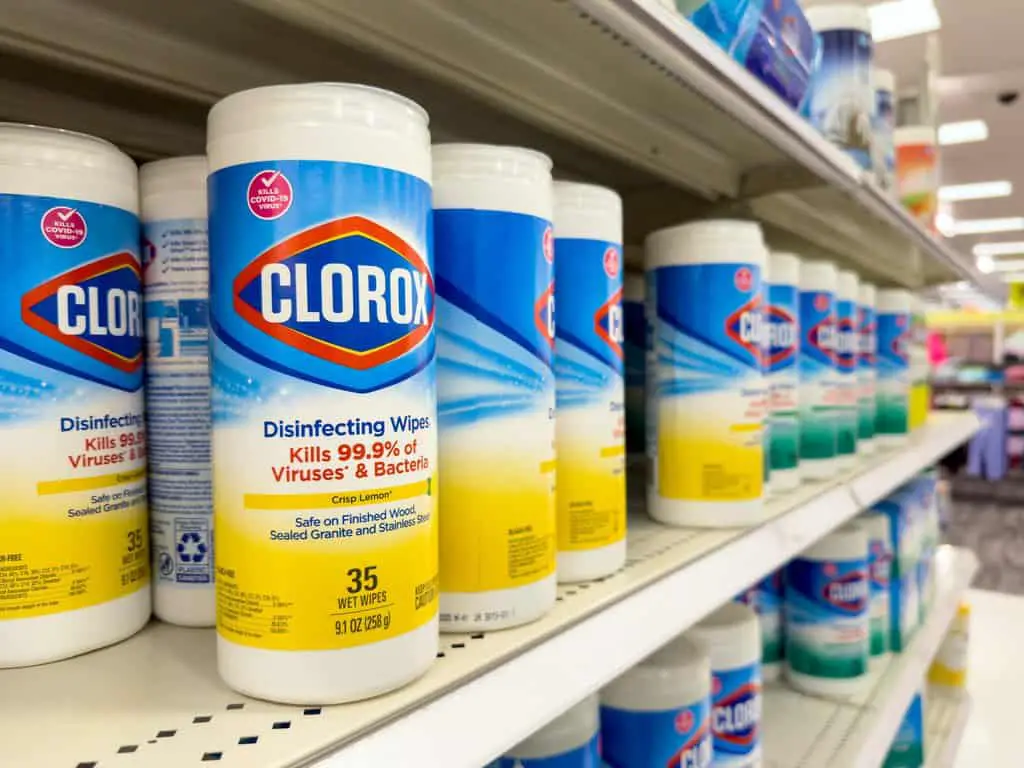 Clorox Wipes are most commonly used to disinfect various types of surfaces in your home that you may not want bacteria to live on. These usually include bathroom door handles and surfaces, kitchen surfaces, and various hard, nonporous surfaces.
Can You Use Clorox Wipes on Leather?
Generally, no. On their website description, they are best used on hard and nonporous surfaces. Leather is neither hard nor nonporous. We do not suggest you use Clorox Wipes on leather. However, there may be cases in which it might be okay for you to use it, like on corrected grain leather that has a synthetic outer layer.
Do Clorox Wipes contain bleach?
Clorox Wipes do not contain bleach. Contrary to the products Clorox has been known for, their Wipes do not contain bleach. They contain alcohol and ammonium chloride as the main cleaning agents.
Can you use Clorox Wipes on real leather?
Absolutely not. If your leather is made of grain leather or any leather with its bare surface exposed, you shouldn't use Clorox Wipes on it. If Clorox Wipes only contained alcohol, it wouldn't be much of a problem and would only need conditioning afterward. However, Clorox Wipes contain ammonium chloride, and those will stain leather just like they could stain bare wood.
It is relatively safe on lower-quality genuine leather with corrected grain, but it is still quite risky, so do so at your own discretion.
Can you use Clorox Wipes on faux leather?
Faux leather isn't a hard surface, but most faux leathers are nonporous. So you may be able to use Clorox Wipes on faux leather. However, not all faux leather is the same, so read on to know whether it is safe to use on your type of faux leather or not.
Pros of Clorox Wipes on faux leather
If you want to use Clorox Wipes on your faux leather items, you can do so but with consideration for the risks. Here are some of the advantages of using Clorox Wipes:
They can effectively clean faux leather to remove light stains and dust.
They're great for removing bad odors.
Clorox Wipes can be used to remove lint that is stuck on your faux leather items.
Cons of Clorox Wipes on faux leather
Unfortunately, Clorox Wipes have many cons and risks when using them on faux leather. Even the product itself may pose a threat to you. Ammonium chloride can cause allergic reactions which you should take note of in case you are sensitive to. This can manifest itself as sinus sensitivity or skin irritation.
For faux leather, it can cause discoloration depending on the type of colorant used in the faux leather. This can be a problem with cheaper types of faux leather as some types may be colored with low-quality dyes that can fade because of the ingredients in the wipes. This may not be a problem when it comes to high-quality materials.
One of the disadvantages you may face when using Clorox Wipes on faux leather is that it may be tedious to use on large items like whole car seats and leather couches. You may have to use quite a lot and that might end up being wasteful and costly.
Clorox Wipes are also not biodegradable. They have compostable versions, but that is a different and specific product. Non-biodegradable wipes have been a major contributor to clogging and causing harm to ocean wildlife when they are ingested.
Things to consider before using it on faux leather
There are a few things you should consider before using Clorox Wipes on synthetic leather. The first thing you need to remember when cleaning faux leather is that you need to test it on a small hidden area for any discoloration. If it causes discoloration, then don't proceed with using it.
If your faux leather item has a special coating on top of it, the Clorox Wipes are most likely strong enough to remove that protective coating. Once that protective layer is removed, your faux leather item will be more vulnerable to all kinds of damage in the future. Some faux leather surfaces are also designed to be porous to mimic real leather and it will definitely suffer if you used Clorox Wipes or any type of strong cleaning solution on it.
You will also need to consider the color of your faux leather item. Keep in mind that darker-colored ones like black or brown faux leather will be more susceptible to discoloration or staining.
How to use Clorox wipes on faux leather
Even though there are great risks to using Clorox Wipes on faux leather, you may still be able to pull it off by following the steps below.
Steps:
Dust off any dirt and debris on the surface of the faux leather item.
Get your Clorox Wipes and gently wipe off any stains or dirt you want to get rid of.
Dampen a soft microfiber cloth with clean lukewarm water and remove the excess moisture left by the wipes.
Take another microfiber cloth and make sure it's dry and clean. Wipe away all the excess water and moisture on the surface.
Best Alternative: Weiman Leather Conditioning Wipes
You may have looked this article up because you already have Clorox Wipes. However, If you do plan to use wipes for your leather goods, we would like to suggest a better alternative that is better suited for leather goods.
Weiman Leather Conditioning Wipes are meant to be used on leather, whether it be real or faux leather. They pose no risk of staining or damage to any of your leather goods while still being able to clean and disinfect your leather item. They're great for cleaning upholstered furniture like car seats and sofas.
Sale
You shouldn't rely on them solely to condition your leather item, but they have the added bonus of conditioning your leather items as you clean them. You should still condition your leather item when the scheduled conditioning period comes around, however.
You can keep them handy in your car or in your bag if you pack a few in a smaller zip bag and use them in case you need to spot clean.
This product is not perfect, however. Since they are wipes, they may still leave fibers and may need to be followed up by wiping with a microfiber cloth to remove any lint left behind. This may not be a problem on smoother types of leather. They definitely won't leave as many fibers as paper towels.
Conclusion
Faux leather items generally don't last very long and the best way to preserve them is to clean and care for them properly. If you happen to find stubborn stains on it that can't be removed using water, you might be tempted to go for stronger cleaning solutions. However, there are many alternatives when it comes to cleaning faux leather surfaces that aren't so damaging. We hope that this article gave you the answers you're looking for and if you're still unsure whether to use Clorox Wipes or not, we'll be honest and say that it's better not to.
FAQ
Can I use Lysol wipes on leather car seats?
Lysol wipes are quite similar to Clorox wipes with similar ingredients as well. However, most car leather seats are made of durable faux leather upholstery material so it should be fine. We would urge you to test in a small, discreet area, like on the leg area or near the doors. If it shows no staining or discoloration, you may continue using it. But the much better alternative to Lysol are Leather Wipes from Armor All made especially for automotive leather, interior, and exterior.
Can I use Windex on leather?
Windex may be too harsh to be used on leather. It has a high risk of staining your item, even faux leather items. The most common issue faced by those that have used Windex on their leather item is discoloration and fading. Windex is mostly meant to be used on hard and nonporous surfaces like stone tops or glass. We would only suggest best leather cleaners and leather products for leather items.
Can I use baby wipes on leather?
Baby wipes are not as harmful as Clorox Wipes so they are quite safe on leather. They do use a mild detergent, however, so it might dry out the leather if used too often. Baby wipes are great for spot cleaning and emergency situations where you may have spilled something on your leather item. We would not recommend it to be your first option when you want to do some maintenance cleaning on your leather item, however.
Can I use bleach wipes on leather?
Absolutely not. Bleach will stain your leather goods almost immediately and the stains will be incredibly difficult to remove. Bleach should never be used on leather goods, this may even include faux leather as it may have an effect on the dye on the plastic.